Yoga Territory
YOGA TAUGHT AT A DISTANCE
Yoga teacher Claire Johnston knew the coronavirus lockdown was inevitable – but admits that she was taken by surprise at how quickly it arrived.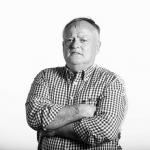 Words by

Nigel Adlam
Published

01 July 2020

"We had to swing into action and adapt," she says. "And that's what we did." The doors of the Darwin-based Yoga Territory studio closed on a Monday, Claire and her team of seven instructors trialled their first online class the next day and a new, virtual timetable went live on the Wednesday.
"It has been a steep learning curve, a challenge that certainly took us out of our comfort zone, both as teachers and students," says Claire. "But it has come with some benefits – the ability to regularly practice from home has really worked for some of our students living rurally, running their own businesses or who juggle family commitments.
"I have received a number of emails from students saying how much they enjoyed it." Claire says "continuity" – giving students the opportunity to continue yoga lessons during the lockdown – was crucial for not only maintaining a healthy business, but also for the wellbeing of the studio's community of members.
Yoga Territory, which bills its studio on the corner of Cavenagh and Knuckey streets as "your oasis in the heart of the city", offers group, private and corporate yoga classes, as well as meditation, coaching and lifestyle support. All levels of experience are catered for with a range of classes for beginners and the more experienced practitioners.
Students like the fact that the studio has many teachers – because each has their own style of delivery. Claire, who grew up in Sydney and moved to Darwin six years ago, has also made community a key focus of her studio's ethos.
She quit her well-paid science job nine years ago, to follow her passion of teaching yoga. Claire has moved often. "I had never lived anywhere for more than two years until I came to Darwin. I always lived so that I could pack and move very quickly.
"I'm so glad I moved to Darwin. I love it here. I couldn't imagine living anywhere else." TQ