HUMPTY DOO BARRAMUNDI
WORKING AT BARRA FARM A GREAT JOY
Jakab Stewart believes he has landed the perfect job – working at Australia's largest barramundi farm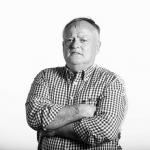 Words by

Nigel Adlam
Published

04 July 2021

The aquaculture technician is one of 129 people on the team at Humpty Doo Barramundi. Jakab is studying for a Certificate III in Aquaculture through Charles Darwin University.
"This job is great," he says. "I like being outdoors, being hands-on, getting dirty."
Jakab, who was born in New South Wales but did most of his schooling in Alice Springs, drives an hour each way between his home in Darwin and work every working day.
"But it's worth it," he says.
He does a wide range of work on the farm, which means he may be feeding the millions of barra twice a day or testing the water quality three times a week.
Jakab, 23, is one of several technicians being trained at Humpty Doo Barramundi.
The farm employs a surprising range of professionals and tradies, including engineers, project managers, drivers, mechanics and electricians – and an increasing range of IT and data experts.
Care of the fish – from counting them to monitoring their health – is increasingly controlled by technology.
"The industry is changing and becoming far more technical," says brand manager Tarun Richards. "Jobs aren't being lost – they're changing. People would be surprised at the different skills needed here."
She says a good team is vital for the safe and efficient working of the farm.
"We're an NT family-owned company and the people on our team are like an extended family to us. Investing in and upskilling the people behind the core operations of the farm contributes to a more fulfilling workplace and overall a better-quality product.
"We're excited to be developing the Territory's aquaculture industry to incorporate more technology.
"There will be a need for data analysis and IT expertise going forward. It will allow us to better monitor the health and growth of our fish and will provide a stimulating and safer workplace for our people, which is a better outcome for everyone."
Staff fit their work week into four days, which means they get a three-day break.
That "long weekend" allows aquaculture technician Melissa Brown to spend time with her three horses. She is also studying for a Certificate III in Aquaculture and also loves her job.
"I came to Darwin for a holiday and fell in love with the place and now the job," she says. "I'd like eventually to move into a more technical role, analysing data."
Pond supervisor Billy Young, who was brought up in Humpty Doo, has one of the more unusual jobs – one of his tasks, cleaning or pigging the pipes to ensure the fish have a constant supply of clean salt water, involves him donning a wetsuit and jumping in.
"No, I never get cold," he says.
Project manager Garry Richards, who is not related to the Richards family who own the business, wants to recruit an engineer to work on the expansion of the farm. "There is a lot of interesting work being done," he says.
Humpty Doo Barramundi, which is recognised as one of the Territory's great business success stories, expands by about 30 percent every year so there is always plenty of new things to do.
More than 50 percent of the seafood eaten in the world today is farmed, which relieves pressure on wild stocks – and demand is growing strongly.
Mr Richards, who has worked on several multibillion-dollar projects, is delighted to be back working in a more connected hands-on role. "This job is challenging, it's exciting, it's different."
The farm, which covers 700 hectares of the Adelaide River floodplain is the largest barra farm in Australia, produced just six kilograms of fish a week when it started in 1993; it now harvests more than 10,000 times this every week.
Loans from the Northern Australia Infrastructure Facility have allowed Humpty Doo Barramundi to expand the scale of its operation, to employ more people here in the Territory and become more technologically advanced.
Demand for the great tasting saltwater barramundi grown at the farm is increasing, and there are plans to further expand the farm to meet that demand.
Humpty Doo Barramundi plans to continue to lead the way in the production of sustainable Australian Barramundi and creating opportunities for people here in the Territory.