WHAT DO WE LOOK FOR IN DEALS?
Getting asked what we look for in deals is one of the most common questions I get as an investment manager.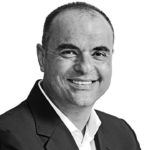 Words by

Harley Paroulakis
Published

31 March 2023

This April 2023 Territory Q features two companies our Paspalis Innovation Investment Fund invested in, Liandra Swim and Atomionics. The two companies demonstrate the types of attributes we seek in deals and illustrate how venture capital can create jobs and economic value in the Northern Territory.
Liandra Gaykamangu's Liandra Swim is an emerging brand building its national and international profile. In addition to being sold at David Jones, Liandra's swimwear designs have been exhibited at high-profile fashion events in Milan, Sydney, and Miami. It is an incredible achievement for a local indigenous female designer from Milingimby in East Arnhem Land.
Liandra's business impressed us due to her drive, talent, and creative aptitude in addition to the fact that she has a great product with huge export potential. With our venture capital investment, Liandra's business has the working capital to develop priority export markets and distribution channels in countries like the United States, create a fullyear swimwear collection, and cover the high operating costs associated with building those markets during pre-revenue periods.
Overall, we see Liandra as a great founder with a big international dream, and we want to help her achieve it.
Paspalis has invested in a Singapore start-up for the second time. Founded by Sahil Tapiawala and Dr Ravi Kumar, Atomionics has developed surveying technology that can be tested in the rich mining and exploration sector of the Northern Territory. Wavemaker, SGInnovate, and Cap Vista also led the investment.
Atomionics has developed a quantum gravimeter that can provide accurate data in a very short time via a survey vehicle. The technology adds value to the mining and exploration sector by detecting the smallest features of target deposits and distinguishing between ore deposits and other anomalies.
Investing in Atomionics provides the company with working capital and incentives to validate their technology in mining and exploration projects in the Northern Territory. Australian mining companies can use Northern Territory and Commonwealth grants to test bed international technologies in their projects, and in the process deploy some of the world's most advanced exploration survey technologies.
It is our goal to accelerate the deployment of relevant industrial technologies in the Northern Territory. For companies like Atomionics who are borne out of world-class universities such as Nanyang Technological University in Singapore, the Northern Territory offers an ideal testing environment for research and development.
As Darwin Innovation Hub enters its sixth year of operation, our role is becoming increasingly niche. Crazy ideas are always welcome here, and people are always given the opportunity to say what they think. We buy into the potential of Territory businesses and bring all our experience, knowledge and networks to help those businesses succeed.
To answer the question I posed at the beginning of this opinion piece, the main thing we look for in a deal is the ability of the management team to deliver on a path to profitability as fast as possible. A good tip for anyone raising capital is to ask for enough money to get you there.