DARWIN CONVENTION CENTRE
WE'RE BETTER THAN EVER
The Darwin Convention Centre has bounced back into business following the coronavirus lockdown.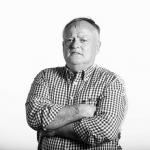 Words by

Nigel Adlam
Published

01 January 2021

It now has more to offer than ever. The Waterfront Rooms have been refurbished – strengthening the Centre's world-class credentials for hosting local, national and international events.
General Manager Peter Savoff is delighted with the work and praised the collaboration with Territory businesses Gabbert Design, Ray Laurence Constructions and a team of talented contractors.
"The quality of design and finish has reinforced our existing reputation as a world-class contemporary event space," he says.
"With operable walls providing flexibility to have up to three individual spaces, the Waterfront Rooms are the perfect design to host meetings, seminars and beautifully themed gala dinners.
"We look forward to sharing these amazing new facilities with our valued customers."
The refurbishment includes state-ofthe- art audio-visual equipment and new-generation LED Flexi lighting to suit a multitude of events. There's a wide range of choices – everything from gentle background settings to vibrant graphics with a choice of colours and combinations.
Like all businesses, Darwin Convention Centre was hit hard by the covid lockdown and was forced to close for several months. But the majority of events scheduled for 2020 have chosen to postpone to future years rather than cancelling all together.
Despite the tremendous challenges, in the eight months prior to the pandemic, the Centre hosted national and international visitors with an estimated economic benefit generated by direct delegate expenditure of nearly $46 million.
"We understand it will be a gradual journey to return to 'business as usual' for our national and international delegates," says Mr Savoff.
"However, recent feedback is positive, indicating that industry bodies and associations are building momentum, adapting to change and making preparations to 'meet again'."
The emphasis has been on the safety and wellbeing of clients, guests, staff and visitors. Centre employees have received covid-19 health and safety training, with a more intense program for operational team members working within the food and beverage, events, security and venue presentation departments.
These measures are supported by VenueShield, a new environmental hygiene protocol created by the Centre operator's parent company ASM Global.
The Centre is hosting a steady resumption of local events, including Territory Government initiatives, business recovery seminars, association gala dinners and school graduations.
"It is inspirational to see that the people of the NT are committed to getting back to business and on with their lives," says Mr Savoff.
"We are buoyed by recent announcements regarding changes to national border restrictions and look forward to welcoming our national and, in time, international delegates and guests to Darwin and the Convention Centre when it is safe to do so."
CONTACT
Darwin Convention Centre
(08) 8923 9000
sales@darwinconvention.com.au