Farmworld NT
WE SERVICE WHAT WE SELL
Farmworld does a lot more than sell world-class agricultural machinery and equipment.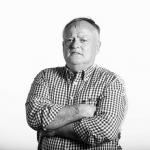 Words by

Nigel Adlam
Published

01 April 2021

Farmworld does a lot more than sell world-class agricultural machinery and equipment.
It has also built up a reputation for superb after-sales service.
The company's motto is: We service what we sell.
Director David "Sando" Sanderson says: "We don't just sell to customers and forget about it, expecting them to go elsewhere for repairs and maintenance.
"We don't have the work off to someone else. We do the job ourselves – and that's greatly appreciated by customers."
Staff are trained in the latest technologies.
Farmworld has another key point of difference over competitors – it is the only all-agricultural supplier and service agent in the Territory.
"Other businesses sell agricultural equipment, but they have lots of other interests as well.
"We concentrate solely on the agricultural industry – and that means we understand our customers' needs. We've got a feel for the industry.
"Our spray technology experience and knowledge make us the leader in that field."
Farmworld offers a reliable, personal service, which makes doing business a pleasure for everyone.
It sells everything from tractors to ride-on mowers, utility vehicles to slashers and spreaders.
Farmworld sells new and used machinery and equipment, plus a wide range of spare parts.
The main customers are mango orchards, Asian vegetable farms, local government and the pastoral industry.
Farmworld's good reputation means it is likely to benefit greatly from the growth in the Territory's agricultural industry, especially following the Territory Government's release of vast swathes of land for intensive agricultural.
Its main brands are Massey Ferguson, Iseki, Silvan and Kioti, and it also sells tillage gear from Australian manufacturer John Berends.
The company started at Coolalinga in 1997 as Top End Tractors and was bought out by Sando and his wife Jenni and renamed Farmworld NT in 2000.
It has been based in purpose-built premises in Humpty Doo since 2009.
Farmworld is a family-run business with a long-serving, highly-experienced staff – for instance, parts manager Graeme Watt is a former top-flight diesel fitter and office manager Jess Brix manages accounts and sales, and "can give advice on most things we sell".
"Our staff have been with us for many years," says Sando. "They love the job – they like their work colleagues and enjoy serving their loyal customer base."
Farmworld is an active member of the rural community, sponsoring Southern Districts football and cricket teams, and supporting the Freds Pass Show and VET training at Taminmin College.
Sando and Jenni moved to the Territory from South Australia in 1984 when Jenni gained a nursing job in Elliott.