DARWIN LAND ROVER
UP-AND-COMING BUSINESS LANDS MAJOR CONTRACT
Leigh and Rachel McKay were grateful when they started getting a steady stream of repeat customers at their mechanical workshop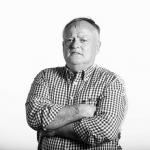 Words by

Nigel Adlam
Published

01 January 2021

After all, they had worked hard for years –the reward was an enviable reputation for doing a good job at a fair price. They know that word of mouth recommendations is crucial in a close-knit community such as Darwin.
"We've got a good number of loyal customers," says Leigh, who was born in the remote Queensland town of Normanton but moved to Darwin at the age of 10… "They know us and trust us.
"If you do a good job the first time, people will come back to you time and time again. And they will tell other people about you.
"That's the best form of advertising. But you have to do the job properly."
Leigh and Rachel's grandparents were mechanics. The young couple were overjoyed when Land Rover, one of the iconic 4×4 vehicle manufacturers in the world, came knocking and asked them to become the authorised repair and spare parts supplier for the Darwin area.
It is rare for such a big international brand to take on an independent mechanical business.
Leigh and Rachel, who are both qualified mechanics, have now moved from their three-bay Nightcliff Service Centre workshop and opened as Darwin Land Rover in much larger premises in Winnellie.
The business specialises in Land Rovers and Range Rovers – there are about 1000 of the vehicles in Darwin, plus many driven by holidaymakers. Leigh began working on Land Rovers when a friend sold him a 1989 Land Rover County for $1000.
"A Land Rover owner saw it outside my workshop, pulled in and said, 'I see you've got a Land Rover – can you fix mine?'
"I realised that there was a gap in the market for us to fill."
The McKays last year made what seemed like a simple decision but it ended up changing their lives. They contacted Territory Government Small Business Champion Robyn Secrett and then successfully applied for a Business Growth grant, which included help from John Yousef of accountancy firm JKY & Co drawing up a business plan.
"John's business coaching has been instrumental in supporting our business growth," says Rachel. "We wanted help in assessing our core market and working out how to expand.
"When Land Rover approached us about taking on their brand, we were able to hand them a completed business plan.

"They were very impressed and said it was one of the best business plans they had ever seen.

"It showed that we were professional in our approach and it played a big part in us getting the Land Rover contract.
"The Government grant turned out to be very good for us.
"Part of the reason for our success was not just leaving the business plan at that. It was the implementation and follow-through with our short and long-term goals and reaching the target Land Rover market we had initially aimed for."
Leigh and Rachel still laugh about the way they met. Rachel, who has lived in Darwin since she was 10, applied for a job as a mechanic at a major automotive company and was told: "Yeah, you can have a job because that bloke over there is leaving." That bloke was Leigh – but there was an overlap when the couple worked together for about three weeks. They now have two children: Zoe, 5, and three-year-old Joshua.
"After Leigh set up his own business, he asked me to come to work for him. We hadn't known each other for that long and I thought working together was a bit full-on. So, I resisted … but only for six months."
The McKays have never worked so hard – but enjoy working together to build a strong business.
"We work well together," says Leigh.
"We have complementary skills." The couple have come a long way in the past few years – they built up a good reputation, outgrew their little workshop in Nightcliff and now represent a world-famous brand.
"Alongside us we have been fortunate to recruit a small team of talented staff to work with us to deliver the best service we can for Darwin Landrover customers. We are looking forward to Darcy commencing with us this year as a school-based apprentice.
"We don't want to stop there. We want to sell Land Rovers and Range Rovers one day. Workshop out the back, showroom at the front.
"We're never going to stop and say, 'Right, we're successful businesspeople.' We never want to stop learning – learning is a life-long journey."
CONTACT
Darwin Land Rover
54 Albatross Street,
Winnellie, Darwin 0820
08 8948 3252
info@lrant.com.au