GOVE RENTALS & MECHANICAL
TWO LESSONS WELL LEARNED
Dave and Tanya Neenan learnt a valuable lesson from a smart young accountant.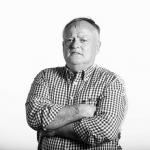 Words by

Nigel Adlam
Published

01 January 2021

He told them: "Don't be known as the cheapest in town – be known as the best in town." Dave says: "So we have always tried to deliver the best service and products possible."
The couple, who were featured in the Territory Q-sponsored Success Stories series of talks at October Business Month, own Gove Rentals & Mechanical in the remote township of Nhulunbuy. They admit that there have been plenty of highs and lows on their road to success. The company was a "very old, rusted shed" with a few hire cars when Dave's dad Brian bought it in 2002. "I once heard it described as an 'alfresco chook shed'."
It now has a new HQ, three mechanics and 70 hire cars. The firm has diversified – it has developed into a one-stop, offering mechanical services, plus panel beating and spray painting.
The majority of Dave and Tanya's business is still government and corporate, such as contractors to the nearby bauxite mine, but they are also seeing a growth in tourism. Illness forced Brian to retire 13 years ago.
"Together with Tanya and Dad's support, we committed to the huge investment of pushing the old shed down and building our dream.
"It seemed like only minutes passed, even though it was a matter of a few weeks, after signing the contract to build the new place that Rio Tinto decided to close the refinery.
"There were some very tense and anxious times with a lot of uncertainty, even a few tears, but they say every cloud has a silver lining. With the closure of the refinery, came an initiative from the NT Government and Rio Tinto to fund grants to address the strength of business.
"We jumped at the chance to have a consultant come into our business and advise on any changes or upgrades to secure our resilience into the future.
"With these grants we managed to plan our path forward and diversify."
Repairs and servicing of the rental cars was a major cost, so they put in a hoist and employed a mechanic to service their own cars.
"We then invested in tyre changing and balancing machines so that we can do all of our own tyres. This has grown to a full stock level of tyres and also servicing of the community."
Dave and Tanya gained a dollar for- dollar grant under the Territory Government's Business Growth program, which allowed them to rebrand from Gove Rentals 4x4s & Cars to Gove Rentals & Mechanical.
As Nhulunbuy settled into the "new normal" after the closure of the refinery, the couple invested in a tilt tray recovery truck with the help of Developing East Arnhem Ltd.
"We have done a few weird and wonderful jobs, including recovering a stricken aircraft, loading a military vehicle onto an army barge and numerous in-kind jobs for local sporting clubs."
Dave says good staff are a company's greatest asset.

"If you can go about your daily business knowing that everything under you is handled perfectly it makes your business run so much smoother. I have a quality bunch of people in all areas of the business."
The company hired Dan Wagg as operations manager for the day to- day running of the business. Dave admits that trusting his baby to someone else was "daunting".
"But I landed on my feet to have a man of quality and integrity.
"With the car hire, mechanical and tilt tray service running smoothly under the watchful eye of Dan, it was time for me to start working on the business instead of working in the business."
The company last year bought a panel shop – and took over all the staff – which made it possible to bring another big expense in-house.
A Territory Government covid-19 Business Stimulus grant, combined with a large contribution of their own money, allowed Dave and Tanya to extend the work shed.
And then DEAL helped them set up a spray booth, which allowed the company to service new model vehicles.
"If you can surround yourself with quality staff, provide a quality service and product, are prepared to diversify when needed, align yourself with support given by the Department of Business and DEAL, and take some calculated risks, hopefully every small business can enjoy success."
Dave and Tanya have come a long way since the young accountant offered his advice on business success. They also like to say that they learnt two lessons from another man, Alan Bond – what to do in business and what not to do.
The late tycoon used to say that he achieved the impossible twice: he took the America's Cup from the Americans and he went broke selling beer to Aussies.