TERRITORY PIONEER
TQ PIONEER: BRENDAN HEENAN
Brendan Heenan has a simple but effective four-point strategy for business success: work hard, plan ahead, recruit good staff – and don't spend all the profits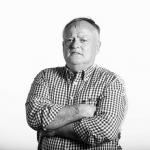 Words by

Nigel Adlam
Published

06 January 2021
He has reinvested $3.5 million into his flagship tourism business – the Big4 MacDonnell Range Holiday Park in Alice Springs – in the past three years alone.
"You have to keep growing your business, improving your business, or you'll go backwards.
Brendan's family-run enterprise has had its rocky moments, such as the pilots' strike in 1989, the "recession we had to have" in the 1990s, the global financial crisis in 2007 and now the coronavirus pandemic.
But the Big4 has survived them all and is now the largest holiday park in the Northern Territory. It has won a record 28 Brolgas and two national awards.
"We've succeeded because we pour money back into the park so that our guests stay longer, come back again and recommend us to their friends.
"We invest money to make money."
The 11-hectare park, which has a perfect location in the shadow of the MacDonnell Range on the outskirts of Alice, started with 150 caravan sites and 12 cabins. It now has 400 sites and 52 cabins – and regularly has up to 1400 guests a day during the peak tourism time in July-August.
Brendan and his wife Bev have six children: Matthew, Fiona, Anne- Marie, Michael, Sean and Tara.
Big4 is a family affair with five of the children working full-time at the park or doing contract work for the business.
Matthew is a plumber; Fiona, the only one to have left Alice Springs, is an accountant and handles the books and marketing from the Sunshine Coast; Anne-Marie works in park administration.
Michael is a builder and builds the park's cabins; and Sean is an electrician. Bev runs the park shop. Tara has Down's syndrome and works at the Bindi sheltered workshop.
Brendan was born in 1940 into a pioneer family in Alice Springs. His father, Francis, who was nicknamed Mick at a young age by his Protestant mates because he was a Catholic, arrived in the Territory from Melbourne as a teenager in 1918.
"He just wanted to get out of the big city."
Mick worked at Manbulloo cattle station, near Katherine, and then Coniston station in Central Australia before buying a block of land in 1926 where the Oasis Motel now stands in Alice Springs and growing vegetables and raising chickens.
He met and married Anne Egar, who had gone to Alice to visit her sister, the mother of Bernie Kilgariff, who would go on to be a Senator and one of the most revered politicians in Territory history.
They had two children: Brendan and Mary. Brendan went to Our Lady of the Sacred Heart School and was then sent to board at Rostrevor in Adelaide in 1948.
He was only eight and unhappy being so far away from his family and the carefree life in Alice Springs.
"We had to put on a tie and go to Mass every morning. I didn't even know how to do up a tie."
His parents took him away at the end of the first year, but he returned a couple of years later. Brendan left school after year 10 and went to horticultural college in Melbourne because he planned to become a fruit and veg farmer.
He left after two years – "I just wanted to start working" – but evidence of his training can be seen in the pleasant garden-like atmosphere at the Big4.
The college dropout was to soon learn a brutal lesson about life on the land in Australia. He went to work on his family's 3650-hectare property in Western Australia.
"I worked hard clearing the bush so we could grow wheat and sheep. But we found out that the sandy soil just wouldn't hold fertiliser. We couldn't do anything with the it."
So Brendan went walkabout for 12 months – working as a landscape gardener, humping 50-kilogram sacks of flour to bakeries in Melbourne, picking tomatoes in Bowen in Queensland, picking fruit in Berri in South Australia and working in a margarine factory in Sydney.
He happily returned to Alice Springs in 1960 to work on his father's vegetable farm and then bought the land across the road on what is now the holiday park.
The new farm thrived for a few years, trucking enormous amounts of veggies to Darwin every week, but the water supply became saline after the big floods of 1974-75. Brendan then started a landscaping and nursery business, which also did well.
His father suggested creating a holiday park on what was now unused land. It was an imaginative idea, but sadly he didn't live to see it come to fruition.
Brendan borrowed $800,000 under a Territory Government low-interest loan scheme with the NT Development Corporation and set about building the park in 1983.
"That was an enormous amount to borrow in those days, a frightening amount really. The NTDC interest rate was only 10 percent to encourage tourism development in the NT.
"We also put in a large amount of our own money. This was when interest rates were normally around 19 percent."
The first three years were tough, but the sealing of the final stretch of the Stuart Highway in 1987 "opened the floodgates" for tourism in the Territory. It has never crossed Brendan's mind to leave Alice for good; even while wandering around Australia as a young man, he knew he would eventually go home.
"It's a great little town," he says. "You can get anywhere within a few minutesand the landscape and ranges are beautiful – red, yellow and purple.
"And there's a good community spirit here."
Brendan is saddened by the growing social problems in the town.
"There are lots of kids roaming the streets at night, getting into trouble. The terrible truth is that they probably feel safer on the streets at night than they do at home.
"A whole generation is growing up unable to read or write. They are destined for a life of welfare dependency."
Brendan has played a prominent role in the community, sitting on many boards and committees – social, economic, political and charitable.
The CLP life member stood unsuccessfully in the old seat of MacDonnell in 1990 and sat on Alice Springs Town Council from 2008-17. He strongly believes that people should get involved in their communities – to help their fellow men and to stay intellectually alert.
Brendan is in his ninth decade on earth but still goes to work most days.
"I particularly enjoy the forward planning, working out how to do things better."
Brendan has many awards but a few months ago he gave himself a special honour: an OBE – "over bloody eighty". TQ