TIME TO TALK BUSINESS
There will be a series of forums at Facing North – time for leading Territorians to promote the NT in a vigorous, well-informed way..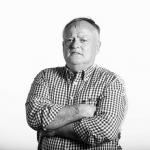 Words by

Nigel Adlam
Published

10 July 2023

The first forum, a panel discussion led by Shaun Drabsch, chief executive of the Department of Industry, Tourism and Trade, will be Facing North for A Cleaner Energy Future.
It will explore how the Territory is building on its natural strengths in mineral resources and mining to build new capability and opportunities further along the value-chain.
New strengths are being realised in low emission energy, mineral processing and value adding across a range of sectors.
Industry leaders across these sectors will talk about Australia's newest and most northern manufacturing capability powered by renewables and lower-emissions energy.
Details will also be given about the Middle Arm Sustainable Development Precinct, a masterplanned, world-leading hub for carbon capture, minerals processing and the manufacture of green products, such as hydrogen.
The second session – Facing North to the forefront of Australia's national resilience – will look at the Territory's proximity to Asia is strategically and geographically important to Australia's future prosperity and security.
It will examine the Territory's role in Australia's national resilience and response efforts, including in Defence, humanitarian and disaster responses, and biosecurity.
Darwin Major Business Group chair Avril Baynes will lead a forum entitled Facing North for commercial prosperity.
Business and industry leaders will outline their path to success and commercial prosperity in Northern Australia.
The session includes case studies of some of the Territory's and Australia's most fruitful commercial ventures.
Paul Ah Chee Ngala, chair of the Aboriginal Tourism Committee and Tourism NT Board Commissioner, will lead a forum called Facing North to Australia's cultural heart.
The Territory is Australia's cultural heart, sustained by the vibrant culture of Aboriginal communities and centuries of connection to South-East Asia.
Leaders will demonstrate how this richness is being promoted to the world through projects such as the National Aboriginal Art Gallery, the Larrakia Cultural Centre and growth in Aboriginal tourism.