THE NORTHERN TERRITORY – A GREAT PLACE TO LIVE, WORK AND INVEST
The signature Indigenous artwork for the Facing North exhibition in Canberra is Kulama Design by Lidwina Tepomitari.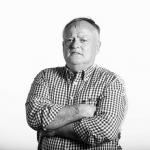 Words by

Nigel Adlam
Published

10 July 2023

Facing North is a high-powered exhibition aimed at showing the rest of Australia that the Northern Territory is the land of opportunity. It will be held in Parliament House, Canberra, on 2 August.
Kulama Design will be used on the printed invitations sent to Federal politicians, menus, ties and scarves.
The art depicts the important Kulama ceremony of the Tiwi people – the dancers and singers create a circle and prepare the poisonous yam for eating, as indicated by the circles in the painting.
The ceremony was given to the Tiwi people by the Nyingawi, who are little spirit people, as depicted in Tiwi mythology.
It is performed at the end of the wet season as a celebration of life and food.
Tiwi know to perform Kulama when the last full moon of the Wet has a yellow halo surrounding it, which tells them that Japarra (the moon man) is ready for it to begin.