GAMBER ACTION PROGRAM
STOPPING THE SPREAD
Weeds cost the Australian economy $5 billion a year.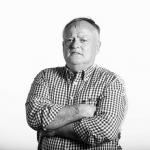 Words by

Nigel Adlam
Published

04 July 2021

And here in the Northern Territory, they can also have a devastating impact on our environment and way of life.
Aquatic weeds threaten wetland ecosystems and can reduce our availability of fresh drinking water.
And of course, there's gamba grass, which fuels dangerous bushfires that put the lives of Territorians at risk, as well as native bird, mammal and reptile species.
That's why the Northern Territory Government is continually looking at new and different ways to complement existing programs that help landholders manage this invasive threat. One of the biggest success stories during the past decade has been the Gamba Action Program (GAP), which is set to kick off once again towards the end of this year.
GAP has provided free herbicide and equipment loans to thousands of rural residents to help manage gamba grass on their properties each wet season since its inception in 2010.
And this year, the Weed Management Branch within the Department of Environment, Parks and Water Security (DEPWS) rolled out its new Fire Assistance Program for the first time.
Weed Management Branch director Nigel Weston said the Program had been very successful in reducing the fire risk faced by many Territorians unable to tackle gamba grass on their own.
"For some older and vulnerable Territorians, such as 76-year-old Nancy Nathanael, managing invasive weeds such as gamba grass is extremely challenging," Mr Weston said.
"That's why we rolled out the Fire Assistance Program in April, to help Territorians in Darwin's rural area like Nancy get rid of their gamba and reduce the risk of intense wildfires impacting their properties."
The newly formed Gamba Army, coordinated by Territory Natural Resource Management, has also made a significant impact with more than 3000 hectares of the weed sprayed to complement existing weed control efforts to protect biodiversity, assets and high use recreational areas. 
A NEW THREAT EMERGES 
Of equal concern to Mr Weston is the 2019 discovery of Siam weed at a pastoral property west of Litchfield National Park.
The infestation area of Siam weed is now estimated to be 1176 hectares across three infected premises.
Siam weed is a perennial plant considered to be one of the world's most invasive weeds that is toxic to cattle if eaten and has reportedly killed 3000 cattle annually in the Philippines.
While this weed has a distinguishable pitch-forking stem, it can be hard to detect as it only flowers for about a month during the coldest time of the year.
"Vital industries such as agriculture and horticulture could be placed under severe threat if Siam weed spreads beyond control," Mr Weston said.
"This is because it can out-compete and smother crops and native vegetation because of its phenomenal growth rate and ability to scramble up taller plants to a height of 20 metres.  
"As is the case with invasive species, prevention and early intervention are the most cost-effective methods of weed control and we are working hard to ensure this outbreak is addressed strategically and rapidly."
Weed management officers and affected land managers have been conducting aerial and ground surveillance activities, as well as spraying herbicide, with the aim of further limiting the spread and impact of Siam weed.
Helping them achieve their goal of control and potential eradication is the release of gall flies, which has proven effective in north Queensland where Siam weed is quite prevalent.
"If there's one positive in all of this, it's the timing of the initial Siam weed detection in 2019," NT weed scientist Michelle Franklin said.
"Normally with biocontrol, it takes a really long time before approvals are given to release a newly introduced insect into the wild.
"But as Siam weed was discovered here for the first time, Queensland had just completed its approvals process that would allow its release of the gall fly, so we were incredibly lucky from this perspective.
"In other countries where gall flies have been released they have proven to be a very effective biocontrol agent.
"Gall flies won't kill Siam weed but they reduce the vigour of the plant, meaning they disable the competitive advantage this weed has.
"Back in Central and South America where Siam weed is a native plant, it would have gall flies and other insects impacting on it.
"We have now set up our own breeding program for gall flies and the idea is that so long as the flies are buzzing around the infected premises it will mean the Siam weed is less able to spread and impact our native environment."
Anyone who thinks they have Siam weed on their property, or thinks they have seen it, is urged to contact the DEPWS Weed Management Branch on 89994567.