Buy Alice Collective
STICKING TOGETHER
The legendary community spirit in Alice Springs was there for all to see during the coronavirus lockdown.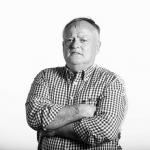 Words by

Nigel Adlam
Published

01 July 2020

Business owners immediately got together after the Northern Territory Government announced a safety-first regime to work out a road map to the new normal. A shining example of the innovative and resilient attitude of Centralians is the Buy Alice Collective, an online onestop shop with home-delivery service set up by four local businesses.
The businesses are Premium Pete, Happy Farmer NT, DuYu Coffee Roasters and The Bakery. "Rather than completely just close down for the lockdown, we wanted to be able to support people to stay at home and offer a range of products, which in turn kept our businesses ticking over," says Kim Hopper, who bought Duyu Coffee five years ago.
"It was the idea of being the butcher, baker and candlestick maker. "We're not trying to compete with supermarkets. We want to provide something different – a good local service." Premium Pete and Happy Farmer NT offer fresh fruit and veg, including locally-grown produce; DuYu delivers premium locally-roasted coffee and even coffee-making equipment; and The Bakery sells freshly-baked artisan bread and pastries.
"We already had a website for Duyu home and office deliveries," says Kim. "We wanted to offer more so we contacted other like-minded businesses to form the collective. "Five days later our online service was open to the public." Buy Alice Collective will continue after the lockdown if there is enough patronage and there is potential for more businesses to join.
"We've had some amazing feedback from customers. It's been incredible, especially as we didn't do any kind of formal advertising." The collective has a Pay It Forward option, which is well supported by customers. "It's great being able to get those donated food boxes out to people who need them," says Kim.
Reviews of the service are heart-warming. One says: "Healthy, fresh, local produce. Great value for money. Fantastic to get bread, pastries and all my fruit and veggies to my door. Love supporting local." Sophie Boland writes: "Easy ordering and great delivery.
Ordered the $80 fruit and veggie box along with other essentials (coffee, baked goods and toilet paper)." Ian Sweeney says: "These guys are sensational. Easy to order, friendly delivery." And Cara Ward writes: "Very happy with my fruit and veggie box.
Everything is actually fresh. My only wish is for a bigger box so I can sustain my fruit bats. Lovely delivery man also." Buy Alice Collective has engaged a website developer and is encouraging other businesses to get involved.
"Customers can support Alice businesses by using us." New South Wales-born Kim has lived in Alice Springs for 11 years and started DuYu eight years ago. "I came to Alice on holiday and never left." TQ