STEWART HOOSEN
Stewart Karmburmar Hoosan was only nine years old when he started working on a cattle station.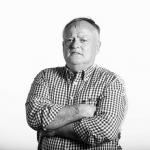 Words by

Nigel Adlam
Published

24 January 2023

"I was so small that I learnt to ride on a donkey," he says.
His first task was looking after the horses and acting as night watchman for the cattle.
A year later, he was part of a proud team driving cattle for hundreds of kilometres across the vastness of the Northern Territory and Queensland Outback.
Today, Stewart, his wife Nancy, sons Adrian and Clayton, and daughter Thelma run 300 head on a remote outstation near Borroloola.
"I still love working with cattle," he says.
But Stewart is known not for his life as a ringer but as a prize-winning artist whose work has made him one of the most collectable Aboriginal painters in Australia.
Territorians who bought his work a decade ago are now the owners of paintings worth many times what they paid for them.
One of his latest works, Boomerang, is a large, haunting piece depicting the traditional carving of a boomerang.
"I remember watching a boomerang being carved. It's rare to see that kind of thing now."
His paintings are inspired by his respect for country and Aboriginal culture. But he also likes to "tell a story" – some of his paintings depict the old bush horse racing meets in Normanton, Cloncurry and Mt Isa that he remembers from long ago.
He still enjoys horse racing and always goes to the Darwin Cup.
Karen Brown Fine Art Gallery in Darwin represents Stewart and is exhibiting his work .
"Knowledge and respect for country are the primary focus for Stewart's work and bring vitality and life to his landscapes," Ms Brown says.
"Paintings that represent place and country are testament to the life of a law and culture and land.
"A careful and mesmeric painter, Stewart finds the detail in a waterhole, a cave, a small, delicate tree against the great vastness of the land and the landforms.
"Over the past 20 years we have placed exceptional paintings by Stewart in major public and private collections in Australia and overseas and are preparing for a major exhibition in 2023."
Stewart, a Garrwa man on his mother's side and Gangalida from his father's side, was born at Doomagee Station in Queensland in 1951, the son of Thelma Dixon and Alec Hoosan. His paternal grandfather, Joe Hoosan, was an Egyptian who came to Australia on a British ship from what was then Aden.
"I was too young to remember him before he died and I never found out why he came here.", Stewart was brought up by his maternal grandfather, Yarri Yarri, on Calvert Hill and Robinson River stations.
"He told me stories about country. I remember watching him paint on cave walls."
Robinson River has since been returned to Aboriginal ownership, which delights Stewart.
"We got our land back," he says.
Stewart began painting relatively late in life – he was 50 when he decided to quit life as a ringer and dedicate himself to art. Nancy was already a painter.
"I loved working on a cattle station and now I love painting."
Stewart is a fit and healthy man at 70.
"I've never smoked and stopped drinking in 1979. I remember waking up in the mornings and feeling sick from the grog, so I gave it up. I decided to stop and just stopped. I haven't touched a drop since."
But he has one addiction – chocolate cake.
"It's my biggest weakness. I can't help myself."
ACHIEVEMENTS OF AN ARTIST
Collections that have acquired Stewart's work include AGNSW, ART bank, Kerry Stokes Collection, Levi Kaplan and Kluge; and in the United States, Horton Collection and other private and public collections.
He has held six solo exhibitions from 2004 to 2021 with Karen Brown Gallery in Darwin and exhibited in Melbourne, London, Sydney and Singapore. Stewart has also been a multiple finalist in the Telstra Art Award in Darwin and again was included with Karen Brown Gallery at the prestigious Melbourne Art Fair.
Gallery Gabriel Pizzi in Melbourne; Singapore High Commission; Nanda Hobbs Gallery in Sydney. Finalist Telstra 2003, 2004, 2006 and 2007 and other years, including 2022. Exhibited at the Melbourne Art Fair in 2002, 2006 and 2008. Selected group exhibitions: Mossenson Galleries in Melbourne 2006; Rebecca Hossack in London 2011; the Cross Arts Project in Sydney in 2014 and 2016.