SEA BREEZE REBORN
One of the most innovative housing and commercial developments in Northern Australia was relaunched in the most ancient way - with Larrakia smoking ceremony.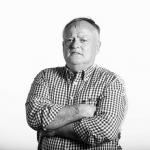 Words by

Nigel Adlam
Published

20 January 2023
Neil and Desley Sunners, who own Territory born-and-bred construction company Sunbuild, are delighted that the 92-apartment Sea Breeze project in the Darwin suburb of Nightcliff has restarted.
And they wanted to celebrate by showing their respect for Indigenous culture by asking Larrakia Elder Tony Duwan Lee and his son Trent Bundirrik Lee to perform a traditional Indigenous smoking ceremony – what is, in effect, a blessing of the site.
The 3260 square metre development on the corner of Progress Drive and Dick Ward Drive was put on hold in 2016 when the real estate market crashed as the national and NT economies floundered.
The two underground car parks and ground floor commercial level had been built when the halt was called.
Workers are now back on site as the economy picks up – with a swag of major wealth-creating developments either under way or ready to start, indicating that property prices will probably begin to rise sharply within the next couple of years.
Apartments can now be bought off the plan, starting at $420,000.
Neil says 2016 was one his hardest years in the business.
"We had to shut down the project and lay off a lot of good people due to the national economic downturn, which lasted a lot longer than anyone ever imagined.
"The post-covid upturn in the market has given us an opportunity to not only relaunch Sea Breeze but to change it for the better and meet buyer requirements in the post-covid era.
"Our focus has been on offering new, modern, versatile apartments at an affordable price."
The development has been updated to new planning regulations since the original scope was drawn up seven years ago, which means the complex now includes a secure bike room with lockers and charging stations for ebikers and scooters.
This innovation pleases Neil – he has been a keen cyclist all his life and sponsors the community 145 kilometre Sunbuild Gran Fondo bike challenge in Darwin every year.
Sea Breeze, which is expected to be finished by the end of 2023, is the latest in Sunbuild's impressive portfolio.
The company built what are recognised as the Northern Territory's most prestigious housing and commercial developments: the Avenue urban village in Parap and Evolution, the NT's tallest building, in the city centre.
Sea Breeze, the first major housing development to be built in Darwin since the covid pandemic, will have eight storeys: the two underground car parks, a ground level with five commercial tenancies and five floors of apartments.
There will be 22 three-bedroom homes, 22 two-bedroom with one bathroom, 43 two-bedroom with two bathrooms and five multi-purpose apartments with two bathrooms.
The multi-purpose apartments are cleverly designed – they have a single entrance but with a separate studio with bathroom and kitchenette, plus a separate power read, which means the space can be used as an office, workspace, "granny" flat or teenager's retreat.
"The kitchenette can be left out and fitted as an office or left bare with the buyer to fit out," says real estate agent Byron Wauchope.
And the second bathroom in the twobedroom apartments can either be locked off as an ensuite or left open for guests.
"It's all about meeting the buyer's needs. Developers have to develop what people want."
Sea Breeze has been designed to cater for modern demands, such as ensuite bathrooms for each apartment and separate work spaces.
"Covid showed that many people can work from home and enjoy working from home, so we're catering for that trend," says Mr Wauchope.
"If the demand for the multi-purpose apartments proves to be strong, we'll adapt the design of other apartments to meet that demand."
Most apartments have three design options.
Sea Breeze is being developed with three things in mind – a good place to live, a good place to work, a good place to invest.
Every apartment will have a balcony, and two secure basement car parks and a concrete block storeroom.
There will be a landscaped atrium in the centre of the development with gardens, seating, small children's playground, pool and BBQ entertainment area to relax and entertain in.
The entry foyer will be air-conditioned and will feature a large coastal mural of the Nightcliff foreshore.
Sea Breeze is supported by about 700 square metres of commercial space, which is being offered for lease or sale.
The development is going to market at a time when optimism about the Territory's economic future is growing.
Defence plans to spend $12 billion in the Territory over the next 20 years – many projects, such as the upgrades at Robertson Barracks, Larrakeyah naval base, RAAF Tindal, and the Top End's three military training bases, are already under way.
Neil is proud to say: "Sunbuild is actively building a number of these projects." US Defense is spending $2 billion in Darwin.
Major projects about to start include the $515 million ship lift, the $1.5 billion manufacturing hub at East Arm and Santos' $4.7 billion plan to backfill Darwin LNG by piping gas from the Barossa field.
Developments outside of Darwin include the potentially multibilliondollar Beetaloo onshore oil and gas project, which would power the Middle Arm Sustainable Manufacturing Precinct.
"Now is the time to invest in property in Darwin," says Mr Wauchope.
Sea Breeze fits the real estate industry's mantra of location, location, location – it is walking distance from four schools, Nightcliff's popular street market, two shopping centres, a major supermarket, a news agency, pharmacy, a GP's surgery, a dentist, a restaurant, cafes, trendy bar, post office, police station, two service stations and two bus stops.
And the lovely walking, cycling and jogging track along the coastline starts just up the road.
Desley and I are proud and happy that this development is going ahead.
For further information, visit seabreezedarwin.com.au