Charles Darwin University
SCOTT BOWMAN
Professor Scott Bowman has a vision splendid for Charles Darwin University.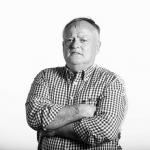 Words by

Nigel Adlam
Published

01 October 2021

The new Vice-Chancellor wants to dramatically increase the number of students – domestic and international, academic and vocational education – when the covid pandemic is over.
He says the CDU is perfectly positioned, geographically and economically, to become one of Australia's greatest universities.
"We've got great staff; we've got a great strategic plan. Now we've got to be courageous; we've got to be prepared to take risks.
"Our priorities should always be Territory, Territory, Territory. But we don't have the population to support the university that we want, so we must draw in students from interstate and Asia, particularly Indonesia.
"And we have to collaborate with other universities to become a research centre in health, defence, engineering, energy and biosecurity.
"There's no better place to be running a university in Australia.
"We've made financial cuts in the past for survival. Now we must begin growing for greatness."
Professor Bowman particularly wants to expand vocational education training at Charles Darwin – he comes from a working-class background and knows that a good trade opens the door to a fulfilling, well-paid career.
"One of my cousins was a carpenter and he was like aristocracy in our family because he had a trade."
He wants to re-energise the CDU campuses in Alice Springs and Katherine, and to take VET to Tennant Creek and Nhulunbuy.
The professor also wants to strengthen the connection between the university and the community.
Territorians can thank the covid pandemic for attracting Australia's most untraditional vice-chancellor to Darwin.
Professor Bowman, who was made an Officer of the Order of Australia in 2019 for services to higher education, had just retired and was planning to spend the next 10 years travelling the world in a 4WD EarthCruiser motorhome with his wife Anita.
They were going to ship the truck to Vladivostok in Siberia and then drive through Asia, Africa, the Americas and Europe.
But covid killed the ambitious plan and made the couple re-evalute their lives as they hunkered down at home in Cairns.
"I spent 18 months trying to learn to play the guitar and to knit. I soon realised I wasn't ready to retire. I realised I still had something to give and could maybe make a difference."
At the age of 58, Professor Bowman jumped at the chance to succeed Professor Simon Maddocks as Vice-Chancellor of Charles Darwin University.
"My wife loves Darwin. I've rarely seen her so happy. She's finishing off a PhD – she's much cleverer than me. Seriously."
Professor Bowman was born in a village in Northamptonshire, a 90-minute drive north of London.
His parents were both factory workers who had met after his mum Kath was evacuated from the East End of London to the village and his father Wilf was deployed nearby just before D-Day.
"I never saw us as being poor. Both my parents worked and there was always food on the table. I had a happy childhood and my parents brought us up well.
"I would never dream of looking down on working class people. One of my brothers drives a truck and the other drives a backhoe. I think their lives have been as fulfilling as mine."
Scott went to local state schools until he was 16 and then studied on the job to be a radiographer.
"I had trouble getting a job at first and drove a van around London delivering rubber goods. I didn't know my way around and was always getting lost."
He eventually got a job in a hospital and worked as a radiographer for a decade, rising rapidly through the ranks – first as a student teacher at Guy's, one of the world's great teaching hospitals, and then departmental head at a hospital in Lancashire.
And all the while he found time to study.
Professor Bowman is the only Vice-Chancellor in Australia – indeed, probably the only one in the western world – who doesn't have a university degree.
But he has a swag of diplomas, plus a Master of Politics and Government, a PhD in Clinical Decision Making and a Master of Business Administration.
He still laughs at how he persuaded a London university to let him take a Masters when he didn't even have a degree.
"I don't know how I did it."
Scott, who has always loved travelling, was part of an adventure tour driving across the Sahara when he met Anita.
"We met in the back of a truck."
They married young and have two children: Adam, a navy doctor, and Anneka, a medical researcher.
Little did Scott know that his destiny to become an Aussie was sealed the day he started flirting with Anita.
She had fallen in love with Australia while backpacking around the country for a year and was determined to emigrate.
"She made it clear that if I wanted to be with her it would be in Australia.
"I had never thought about leaving England, but I visited Australia on holiday and realised that our family could have a much better life here."
They emigrated in 1998 after Scott was headhunted by Charles Sturt University.
He evolved from lecturer to administrator and went on to have a distinguished career at the University of South Australia, Central Queensland University, James Cook University and Western Sydney University.
He was renowned and respected during his 10 years at Central Queensland University for flying himself between remote campuses in his light plane.
"I haven't flown for four years, but I might start again now that I'm in the Territory."
Professor Bowman has many other passions, including mountaineering, caving and, above all, politics.
He is particularly interested in politicians who made a difference, for good or bad, such as Britain's First World War leader Lloyd George, great Labour reformer Clement Atlee and Conservative Prime Minister Margaret Thatcher.
And he is fascinated by Winston Churchill, who he says probably made more poor decisions than good but steered Britain through its "darkest hour" in the Second World War.
Interestingly, Churchill was a great believer in the life-changing power of education and said: "The privilege of a university education is a great one; the more widely it is extended the better for any country."