SAVE MONEY BY BUYING LOCAL
The Northern Territory construction industry can at last save time and money – and help the NT economy – by buying their spiral ducting locally.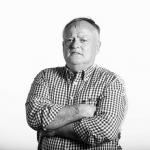 Words by

Nigel Adlam
Published

24 January 2023

Spiro Industries was established in Darwin in June after owners Greg Rooney and his partner Dominique Fracaro saw a gap in the market.
Spiral ducting, which is used in everything from heating to ventilation, from air-conditioning to dust and fume extraction, is recognised as being more efficient than the rectangular ducting commonly used in the Territory because it uses less material to handle the same amount of air.
And the installation time is significantly less.
The ducts also have extremely low leakage rates – less than 1 percent – because they have fewer duct-to-duct joints, which is often where leakage occurs. This results in an energy efficient and cost-saving system.
Spiro Industries is particularly targeting the construction industry, which is on the cusp of a major surge as several major projects get under way, lifting the NT's whole economic outlook.
"We wanted spiral ducting to be more accessible to local business," says Mr Rooney. "Before we started our company, Territorians primarily purchased from interstate suppliers, which is slow and expensive.
"Also, it means money is going out of the Territory – and we're strong believers in buying local whenever possible."
Spiro Industries uses the latest manufacturing processes and machinery to make ducts ranging from 100mm to 900mm at its workshop in Reichardt Road, Winnellie.
Customers have a choice of insulated or non-insulated ducts, and internal or external lockseam.
The turnaround time for non-insulated ducts is extraordinary – only three to four hours, depending on the workload, which means it is possible for a business to put in an order in the morning and collect the finished duct in the afternoon.
"Territorians have never had that kind of service before," says Mr Rooney.
Spiro Industries provides a range of top-class products:
Round spiral ducting can be used in air conditioning, ventilation, rubbish and laundry chutes, smoke and exhaust stacks, dust and fume extractions, concrete formwork, anticlimb security fencing, downpipes and drainage.
The ducts can be manufactured from Galvabond, mild steel, aluminium, Colorbond or stainless steel.
Round spiral duct fittings, which can be manufactured to meet any specifications and requirements, include bends, branches, tees, slide gates, transitions, end caps, reducers and joiners.
All fittings can be supplied in a knockdown form ready for site installation.
Mr Rooney is providing a friendly, helpful service at competitive prices and excellent supply timeframes.
His team have good knowledge of the construction industry, which means they can match the right product to the right project.
Mr Rooney moved to Darwin from his home town of Coffs Harbour in New South Wales on a three-month INPEX contract.
But like so many before him, he fell in love with the place – and his Darwin-born partner.
After the INPEX job, he worked for an air ducting company for three and a half years.