RMI Security
RMI: TRUSTED TERRITORIAN
Craig Spencer came to the Northern Territory for a one week holiday – and never left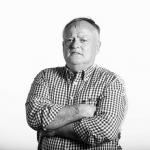 Words by

Nigel Adlam
Published

06 January 2021

Twenty three years later, he is the owner of successful Darwin-based RMI Security, which has the reputation as the city's most trusted security firm.
"I'm a true Territorian," he says. "And RMI is a truly Territory company – established in the Territory and staffed by Territorians.
"But I feel that sometimes we don't get full credit for that."
The former police detective sergeant fears a "cultural cringe" lingers in the NT.
"There's a belief in some quarters that local security firms can't do the same quality of work as interstate companies.
"That's simply not true.
"And when people give us a break, they find that we are as good – and often better – than much bigger businesses."
Craig, who employs about 20 permanent staff at his headquarters in Winnellie and uses many casuals during the year, is a strong believer in buying local – and employing locals.
"We've got a network of trained, fully qualified security guards," he says.
"Every business relies on good staff – and in today's world that often means people with lots of different skills.
"You have to play to people's strengths and understand their weaknesses. We look for team players. You can achieve much more together than alone.
"We need security personnel nowadays who know how to talk to power, help people and, if necessary, de-escalate situations."
RMI specialises in providing manpower – and, increasingly, womanpower – for major events, including AFL and NRL matches, and Darwin Festival. It has even bought three top-of-the-range segways for guards to use at events.
The firm also has an armoured vehicle with bullet-proof windows for cash in transit work.
RMI is one of the few security firms in Australia that gives mental health awareness training to staff, which can be critical when handling mentally ill people.
"The training is expensive for us but we feel it's the right thing to do."
Craig, who has a swag of qualifications, including a law degree, has vast experience in investigation, training, man management and risk assessment. He joined the police in Adelaide a day before his 17th birthday and served for 24 years, including spells in CIB and the National Crime Authority, which combated organised crime.
"I've had some fantastic life experiences."
Craig was on holiday in Darwin when he saw an advert for an Airnorth manager in Katherine. He applied, got the job, put in for sabbatical leave from the police and, unbeknown to him, settled into life as a Territorian.
A string of important jobs followed, including deputy manager of Darwin Private Hospital.
"A couple of weeks after starting, the manager went on holiday and told me, 'Look after the place'. I didn't even have a first aid certificate then.
"I was brought into a lot of jobs because they wanted a fresh pair of eyes, they wanted me to question things."
He worked for the Territory Government on an anti-drug and alcohol strategy and for the disability services organisation Carpentaria. Craig later started working in the security industry and eventually set up his own business.
"I saw that there was a gap in the market for a good, service-focussed, customer-focussed security firm."
RMI started as a home-based business and the first contract was guarding a company in East Arm.
It now operates out of a wellequipped HQ and has built up an enviable reputation for efficiency and professionalism.
Finally, a fun fact: in addition to all his other skills, Craig is a licensed private investigator – and his licence number, just by coincidence, is 007, which gives him the right when asked his name to reply: "Spencer. Craig Spencer."
CONTACT
RMI Security
3/68 Benison Rd, Winnellie NT 0820
1800 764 732 or 0411 426 662
admin@rmisecurity.com.au