QUACK PEST CONTROL
QUACK'S PATIENTS STILL DYING
The Northern Territory company with one of the best catchphrases in the business world is in the mood for well-managed growth.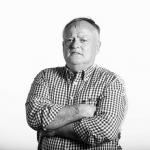 Words by

Nigel Adlam
Published

04 July 2021

Quack Pest Control – whose battle cry of "All Our Patients Die" is known by every Territorian – is a trusted Darwin born-and-bred family firm, which continues to out-compete all newcomers, despite some of them being big international operations.
And that's not simply because it's local.
Quack, which has grown every year for many years, has built up an enviable reputation for doing a good job in one of the toughest environments in the world.
It has long been the go-to business for dealing with pests, whether they be termites, ants, spiders or cockroaches.
"We get a lot of work from referrals," says Josh Parry, who owns the business with his elder brother Chip. "Word of mouth is so important in a small community like ours. It is the best advertising.
"If you call us, you will talk to one of our friendly local staff.
"And people know that we'll do a good job – they know they will get quality service.
"You get a much better service from a local family company. We provide free quotes, warranties, a callback service and annual reminders."
Quack has worked hard to gain its reputation for providing a professional, efficient, well-priced and friendly service.
It keeps up with the latest technology and has a strong emphasis on customer service.
The company mission statement says it all: Treat every home as if it was your own.
Chip says: "People are putting a lot of trust in us by inviting us on to their property. We respect that.
"So we do the best job possible – every time. We are safe, friendly and trustworthy.
"And everyone working here knows how we operate: do it once, do it right."
Quack 's work includes:
General pest control for cockroaches, ants and spiders at private homes and commercial properties – treatment should be carried out every 12 months to keep the pests at bay.
Termite system replenishments to existing homes – thousands of Territorians probably don't know that by law all homes built after 1997 have a system and that may be due for replenishment.
Installing termite protection systems to new and existing properties, including renovations and extensions. Properties built before 1997 may not be protected from termites.
Termite timber pest inspections, Including sellers and pre-purchase inspections. Completing an annual termite inspection can help detect termites at an early stage before they cause significant damage to your home.
Quack was founded by husband-and-wife team John and Liz Parry in 1968.
John sought the help for business names from an advertising agency in Perth and was sent about 10 business suggestions.
He contacted the agency to let them know he was unimpressed by the names – and while on the phone, he wrote down Quack Pest Control. And then wrote: "Our Patients All Die".
And that is what his sons call a "lightbulb moment".
Many businesspeople believe that it would win a gold medal if there was a World Catchphrase Olympics.
"It attracts everyone's attention, young and old," says Chip. "It's fun and gets the message across."
John worked until he was 82. He is now 87 and enjoying his retirement.
"He would still be working if we let him," says Chip. "He instilled a great work ethic in us."
Chip and Josh, the new generation of Quack, have owned the business for nearly 15 years.
Quack sees plenty of room for expansion.
"We want to grow but keep the same community service culture," says Josh. "That's important to us."
Chip's son Jake, aged 25, works for the business and qualified in 2014.
And 20-year-old Quinn Lengyel started doing work experience with Quack while in year 11 at school and was then taken on as a school-based apprentice.
By the time he left school, he was a fully qualified pest control technician.
A third young Territorian, Lachlan Tyler, aged 20, from Katherine, is in training. The company took on Lachlan after advertising for a senior technician.
After failing to get any qualified applicants, the brothers decided to "grow their own".
"We enjoy training young Territorians," says Chip. "We don't just send them out on their own. We make sure they are ready. They don't go on their own until we are sure that they can do a job as well as us."
Technicians take a Certificate III in Pest Control. Quack gives trainees time to study at work.
And, of course, the company has the experience of senior technicians Josh and Chip, plus Mark Pavy, who has over 25 years' experience in the pest industry and more than five years with Quack.
The brothers are also proud of their office staff.
"Their operations in the office are seamless from start to finish," says Chip. "The business would not run without them. Our team are proud of the good job they do.
"It's a great industry. We are all here helping people protect their properties."
The team also enjoy time away from the workplace together – Chip and Josh took the whole team and their families to Bali in 2019.
And other activities, such as ten-pin bowling, lawn bowls and fishing charters, have followed.
"We have long standing staff and we enjoy getting together," says Chip