RAINE AND HORNE
PUTTING THE CLIENT FIRST
Real estate agent Glenn Grantham and his experienced team at Raine & Horne literally make people's dreams come true.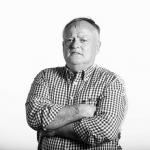 Words by

Nigel Adlam
Published

04 July 2021

They get particular pleasure watching the joy on the faces of Territorians buying their first home.
"It's great to see young people – and often the not-so-young – buy a property that they can call their own," Glenn says. "They can walk in the door and say to themselves, 'This is my place'."
Raine & Horne has a small sales team in Darwin, headed by Glenn and including Byron Wauchope and Adam Gulliford.
They have more than 60 years in the business between them.
Recently they have been joined by Peter Gowers and Sanjukta Ghosh as the Darwin market awakens.
Glenn has been in the industry for 32 years, Byron for 27 years and Adam for almost 10.
They work on what some would say is an unusual business model.
"Our key point of difference is that we concentrate on servicing the clients' needs in their best interests and not ours," says Glenn.
"And that means we don't go solely for volume of sales. Frequently over the past five years we have told a client that it's not the best time to sell and that they should hold off."
That principle obviously comes at a cash cost to the business, but it has enhanced Raine & Horne's reputation for operating in a professional and ethical way.
And the agents still manage to sell 40-50 properties a year each, which is punching well above the average for any agent in the Territory.
Raine & Horne has built an amazingly efficient and experienced team to manage about 1500 properties in the Top End.
Glenn says property prices in Darwin and Palmerston are continuing to rise.
The average increase over the past year has been 12 percent – but 30 percent in some areas.
"Prices were beginning to rise pre-covid – covid gave them an unexpected boost."
Raine & Horne is a fourth-generation family business. It was founded in 1883, making it one of the oldest family firms in the southern hemisphere, and is now regarded in the industry as one of the world's leading real estate companies.
The business, which is so trusted by Aussies that it was awarded "superbrand" status by the Superbrands Council in 2008 and again in 2013, sells more than $10 billion worth of property each year nationwide and manages over 72,000 Australian properties.
Each Raine & Horne office is independently owned and controlled by its proprietors, but with access to the collective strength and comprehensive resources of the group network.
Resources include immediate, specialised knowledge and advice about local trends and market conditions through the inter-office referral system for buyers, sellers, lessors and lessees.