October Business Month
POST-COVID: SUSTAINABILITY AND INNOVATION BECKONS
We've all witnessed the resilience and adaptability of Territorians in their business and regional communities as they adapt to the challenges of Covid-19.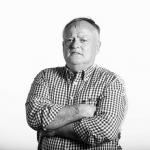 Words by

Nigel Adlam
Published

01 October 2020

Many business owners experienced immediate shocks to revenue. And as the pandemic continues, Australia looks set to face more uncertainty collectively.
But through this hit to confidence, many businesses pivoted quickly to work in new ways and across new channels. Australian business owners have supported their employees, continued to keep business moving and kept up with changing customer preferences.
Our NAB customers have led the way, through maintaining and expanding business opportunities. Importantly, they're also focusing on supporting their employees with a long-term view on care and understanding.
We're also seeing an innovation surge – often out of necessity – as existing businesses look to new products and changing distribution to maintain supply. We didn't ask for it but could hardly get a better test of collective resilience than what we've faced this year.
So, when recovery begins, where are the next opportunities for business innovation? And what will Australia look like on the other side?
Globally, government spending is rising to help shore up confidence, keep businesses afloat and help those who've lost livelihoods. For businesses in strong financial positions at the start of the crisis, opportunities will come again to invest and grow.
Public and private sectors will each play an important role in investing to drive recovery, create new jobs and supercharge innovation. Capital allocation and flow will be critical.
Some of Australia's greatest opportunities lie where we have natural competitive advantage: wind and solar, our proven ability to deliver large infrastructure and resilient, adaptable small business entrepreneurs.
How we choose to build on these strengths will help create a sustainable, innovative future.
NAB is already playing our part. We've accelerated a $70 billion commitment to environmental finance by 2025, supporting green infrastructure finance, capital markets and asset finance.
A further $16 billion supports mortgage lending for energy-efficient housing. We're also capital connectors, fostering business investment, improved productivity and to enable innovation.
Looking ahead, the role of banks in using capital for sustainability driven financial innovation is exciting. Capital – and great ideas such as our innovative green financing solutions – will help Australian business reach its full potential and will also make us less sensitive to future shocks.
Australian business owners – from corner shops to large institutions – let's keep thinking bigger and keep innovating. This is our future to make.
HILTON PROVES RESILIE NT
The Doubletrees and Hilton hotels in the Territory have been busy reinventing, renovating and working on upgrading hospitality during the covid crisis. Hilton Darwin worked on a $1
million renovation while creating innovative ways to adapt to the lockdown restrictions.
The renovation includes a redesigned lobby and reception, and two new food and beverage outlets. DoubleTree by Hilton Alice Springs successfully completed a $6 million refurbishment just before the crisis hit.
The hotel's 235 guest rooms and suites have been completely upgraded.
The Doubletree by Hilton hotels in Darwin and Alice are working again with the October Business Month team and love the new hub format of a home-grown event this year.
The hotels have implemented an industry-leading cleanliness and customer service program
for meetings and events: Hilton EventReady with CleanStay. Shaped by extensive customer
research and feedback, the program will deliver cleanliness, flexibility, safe and socially responsible solutions to their existing and new customers.
The hotels have already hosted a number of conference and events since the COVID-19 restrictions were lifted and started to see more prospective events lined up in the coming months.
"We are proud to continue offering our world-class hospitality and service for conference and events," says NT Commercial Director Chaitanya Rane. The Hilton are proud to be October Business in-kind venue sponsors for the Darwin and Alice Springs Hubs in 2020.
WE LIVE IN A DIGITAL WORLD
Australians who have had their 2020 travel plans derailed by COVID-19 can now book their dream holiday to the Northern Territory, with NT borders open to travellers who are not from a hotspot.
To make sure NT products are easily bookable for travellers, Tourism NT is launching a digital marketing program set to assist tourism businesses to go online to increase sales.
Launching in October 2020, the new $400,000 program is designed to help tourism businesses evaluate their online presence and make it easier for consumers to book. Grants of up to $5,000 are available for NT tourism businesses, with applicants required to provide matched funding.
The tailored program will assess individual business needs by evaluating ease of booking on own website, sales mechanisms, social media platforms, digital marketing, online reputation management, effective booking platforms and distribution.
According to Phocuswright, 50.6 per cent of Australian consumers are booking their travel online. Your business could be reducing its revenue by half if it doesn't have a "Book Now" feature on your website or social platforms such as Google, Facebook and Instagram.
As the tourism industry navigates its way through COVID-19, consumers are choosing to book online wants to help you be more accessible. To apply for the program and grant opportunity, applicants must complete an online self-assessment form. To find out more and to apply, go to:
Let's get bookable! For further information please contact distribution.tourismnt@nt.gov.au