DAWN BEASLEY
PORTRAIT OF A PORCELAIN ARTIST
Dawn Beasley describes herself as a porcelain installation artist, but that title doesn't fully explain who she is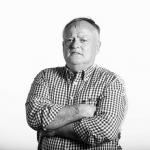 Words by

Nigel Adlam
Published

04 July 2021

She is an extraordinarily diverse artist, highly accomplished in a range of artistic disciplines: drawing, painting, printmaking and ceramics… and everything in between.
Dawn, who was a high school teacher in Britain, Botswana and Malaysia before migrating directly to Darwin in 2006, credits her international art and design teaching career with fostering her multidisciplinary art approach.
"Working with talented people from all art specialisms widens your scope," she says. "You need to be able to teach every specialism that your examination students want to explore."
Since moving to Australia, Dawn's art practice has increasingly focused on clay and, more specifically, porcelain to express herself and her love of all things botanical.
"Porcelain lends itself so ideally to describing plant and flower forms; it communicates delicacy and fragility so perfectly and yet it is deceptively strong and enduring."
Survival and endurance are key parts of the narrative for her latest completed body of work. Entitled The Garden of Alchemy, Dawn exhibited a series of porcelain installations that questioned our tendency to view the world as a resource bank of assets rather than as the life-support system that is crucial human survival:
Since "facing my own mortality" when diagnosed with stage 4 cancer in 2013, her work has evolved from dealing with the fragility and fleetingness of life to narrating the sense of awe that she feels when faced not just with her own survival against the odds, but with "the miracle of life that pervades everything that grows around me."
The main installation, Alchemy, features a field of lotus-inspired stems emerging from a desert-like landscape backdropped with a poem commissioned for this work by Fiona Pow.
The relationship between the different pieces was a key consideration as the installation was composed.
"I wanted to create 'conversations' between the slender forms, hinting at the ghost of human interaction in an uninhabited world born from the ashes of human destruction."
But the final message is not doom and gloom.
"This work celebrates survival against the odds and the sheer tenacity of life to continue in some form. This planet will continue to be a place of awe-inspiring beauty, and we too can survive… if only we recognised where true wealth lay."
This work has been so well received that there are now plans for it to travel to Alice Sprins for the 2022 Australian Ceramics Triennale, firmly placing her on the national stage as an emerging artist in the ceramic world.
Dawn was awarded a 2020 Churchill Fellowship (The Bob and June Pricket Sponsored Fellowship for Excellence in Visual Arts) to undertake a research project in Jingdezhen, China, the capital of porcelain, to take place as soon as international travel restrictions are lifted.
She has also been recognised by the Australia Council for the Arts with funding support for her next major project, Botanically Porcelain.
Dawn will work between the George Brown Darwin Botanic Gardens and her own studio to develop her biggest porcelain installation yet – 40m² of botanically inspired pods as a massive floor installation.
Community involvement through workshops and open studio sessions will encourage increased interest in the project as it progresses and, ever the teacher, the final installation will have a supporting exhibition showing how the work was created.
You can find out more about Dawn and her work via her website and social media platforms through this QR code: