Department of Trade Business and Innovation
PICK OF THE CROP
Good science is raising hopes that cotton will make a comeback in the Northern Territory.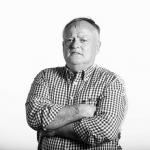 Words by

Nigel Adlam
Published

01 July 2020

Seven properties are now taking part in a cotton-growing trial. NT Department of Primary Industry and Resources restarted cotton research at the Katherine Research Station in 2018 to increase understanding of yield, fibre quality, and disease and pest resistance, to support industry viability assessments.
The research, combined with Territory Government programs mapping suitable land and water resources and biotech advances, reinforces the opportunity to develop cotton as a cornerstone of a broadacre, diversified cropping industry. A thriving cropping industry, stimulated by cotton production, would have major flow-on benefits to regional communities, farmers and the livestock industry.
One of the properties ready to harvest cotton crops in the Top End is Bindaroo Pastures in the Douglas Daly region. Chris and Amanda Howie, who run Hands on Agriculture at Bindaroo, a 5800-hectare property of diversified farming, including hay, seed, cattle and horses, are growing 40 hectares each of dryland and irrigated cotton.
They hope to pick five bales per hectare on fully rain-fed dryland and 10 bales per hectare under irrigation, which would yield a reasonable profit for the first-year trial. One of the biggest expenses is trucking the cotton to a Queensland gin, where the lint is stripped of its seeds. But the Territory Government is pushing for a $30 million gin to be built as part of the Katherine Agriculture Hub, which would create jobs and training opportunities.
"That's a great idea – it would make a big difference to the viability of cotton," says Chris. There would be a lucrative by-product at the gin – the seeds are high in protein and could be used as stock feed. Chris and Amanda, who have been producing a range of grass seeds since 2011, will have their cotton picked in July.
They are keen to compare the growth, efficiency, cost, yield and other differences between the two crops. The couple have been working closely with agronomists to work out when to fertilise and manage pests. Cotton has got a bad press over the years – it is commonly thought to use an enormous amount of water and demand heavy chemical treatment.
Neither is true. "This is a false perception," says Chris. "We planted our cotton during the wet season, so irrigation has only been supplementary." About 80 percent of a future NT cotton industry is estimated to be rain-fed farming systems, also known as dryland farming.
The remaining 20 percent is likely to be supplemented with irrigation and use 2-3 mega litres water per hectare, compared with the 6-7 megalitres of full irrigation. Chemical use has also been much lower with the variety of cotton being planted in the Territory this time around.
About 98 percent of cotton grown in Australia is genetically modified to reduce the impacts of pests, without heavy chemical use. The Australian industry is the global leader in reducing reliance on chemicals and has cut pesticide use by 95 percent since 1993. There is no evidence to suggest that a cotton industry would have a major impact on land clearing because soils suitable for cotton production exist only in patches.
Chris studied at the Muresk Institute of Agriculture in Western Australia before cropping in the wheat belt. He moved to the Territory in 2002 where he started working with his father on Maneroo Station. Amanda, who has studied business and accounts, comes from a cattle background – her family own the Brahman stud Ponderosa near Katherine.
She was involved in the running of her family's three Territory properties, which run about 10,000 head between them. The couple, who started Hands on Agriculture in 2011 by leasing part of Maneroo off Chris' parents, Phil and Annette Howie, and then buying part of the property, have three children, nine-year-old twins Lane and Tayah, and six-year-old daughter Bailey. TQ
FAST FACTS
A Northern Territory cotton industry has the potential to contribute $15 million to the economy in the construction phase and $60 million per annum during operation in the first few seasons. It could sustain an estimated 88 full-time equivalent jobs in the initial period.
The industry could be worth at least $200 million within a decade and directly employ more than 250 workers, according to a PricewaterhouseCoopers study commissioned by the NT Farmers Association. The NT has favourable weather conditions and shorter transit times to export hubs.
Strong seasonal rainfall and high temperatures make tropical dryland cropping in Northern Australia very different to south-eastern Australia, where cotton is traditionally sown during the cooler months. In 2019, more than 4500 bales of cotton were harvested by five growers at successful trial sites across the NT and Kimberley. There are about 1000 hectares of cotton being sown in the Territory this season.