CHARLES DARWIN UNIVERISITY
PARTNERSHIP TAKES OFF
A strong partnership between Charles Darwin University and the Power and Water Corporation is providing a solid foundation of support to develop and inspire the next generation of engineers.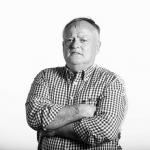 Words by

Nigel Adlam
Published

04 July 2021

While the corporation provides engineering students with opportunities to gain practical industry experience while they study, CDU ensures Power and Water has a steady pipeline of fresh talent by providing engineering graduates.
Students have the opportunity to apply their theoretical knowledge to real-world projects and challenges – ranging from environmental surface drainage water studies and grease trap effluent recycling to odour dispersion around wastewater treatment plants and the transition to renewables.
"It's a strong symbiosis," says Charlie Fairfield, a Chartered Professional Engineer who holds the position of Power and Water Chair of Sustainable Engineering at the university.
"CDU's engineering students get to 'try before they buy' and Power and Water gets to see if the students are the right fit for them.
"It's a chance for Power and Water to have extra hands-on projects and access CDU's research capabilities. And it's a chance for CDU to tap into the extensive array of talent at Power and Water.
"The relationship works extremely well."
Professor Fairfield says the top 10 percent of CDU engineering students could "hold their heads up" at any institution he has worked at around the world.
One engineering graduate who went straight from the CDU lecture theatres to Power and Water is Ahmad Mazloum.
And he has no regrets.
In just five years, Mr Mazloum has been exposed to career opportunities in his chosen field that would be the envy of his peer's interstate — experiences that have seen him progress from graduate engineer at system control to the position of operations planning manager in charge of 15 power system engineers.
There he is responsible for overseeing the safe, secure and reliable operation of the Territory's regulated power systems and focusing on facilitating the transition to renewable energy to help meet the 50 per cent renewable target set by the Northern Territory Government.
Mr Mazloum's team provides employment opportunities for six undergraduate engineering students and two graduate engineers each year. Undergraduate students work part-time. Graduates are full time and rotate to different teams to gain holistic experience of the engineering process.
"Power and Water value their relationship with CDU," Mr Mazloum says. "At Power and Water, we build people; our employees are our greatest asset. Our work environment provides CDU students and graduates with a strong working environment and professional development.
"While study must – and does – come first for engineering students, gaining practical experience throughout their degree is crucial for them to be properly equipped for their career, confident in their ability to participate in the industry and prepared to play their part in building the future power grid integrated with renewable energy sources."
Growing your own, as it is called in industry, is less expensive than bringing in outsiders, who often may not settle into life in the Territory.
Another student, Andrea Georgiou, worked as an intern at Power and Water while studying for her engineering degree at the CDU.
Her work on pressure-management in the drinking water supply network around Palmerston won her the Australian Water Association's NT student prize in 2020.
She has now graduated and is working full-time at the corporation.
There are about 600 engineering students at CDU – and an increasing number of them are women.
To learn more about engineering degrees, research and industry partnerships at CDU, visit cdu.edu.au.