NLC'S 50 YEARS OF STRUGGLE AND PROGRESS
There was undoubtedly an air of expectancy, an air of hope, as the 26 Indigenous delegates streamed into a church hall in Darwin.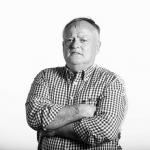 Words by

Nigel Adlam
Published

30 March 2023

But even the most optimistic among them didn't fully realise that they were making history – that they would change the lives of Aboriginal people for the better for all time and reshape the map of the Northern Territory.
The delegates came from communities throughout the Top End and were gathered in the hall of Christ Church Anglican Cathedral for the first meeting of the Northern Land Council.
Only one of the Indigenous people present that day – Alan Young Najukpayi from Yarralin – are still alive.
But all the delegates have gone down in Australian history, particularly Indigenous history, as frontline fighters for justice and land rights.
The role of the Northern Land Council – and the other three Territory land councils – was not formally ratified until the Aboriginal Land Rights Act came into force on Australia Day 1977.
But that meeting in a simple church hall in 1973 is recognised as the day the NLC was born.
The land council is celebrating its 50th anniversary this year.
It has been on a heady journey in the past half century – half of the Territory's landmass and 85 percent of the coastline is now back in the hands of Traditional Owners.
The land council's key role is to consult with Traditional Owners and other Aboriginal people about issues affecting their land.
Despite popular belief, it does what Traditional Owners tell it to do – not the other way round.
NLC chair Sam Bush-Blanasi says the "founding fathers" of the NLC "laid down their vision" for land rights.
"Their children and grandchildren are proud to be related to them."
He says it's "amazing" that the establishment of the land council was the first time Aboriginal people had been fully consulted.
"The NLC's main achievement has been getting land back. And now sea rights. That hasn't been easy."
Mr Bush-Blanasi says previous Territory governments spent many millions of dollars fighting land claims – the Yarralin claim took
41 years to settle, Jawuma 40 years and Kenbi 38 years.
The Yarralin land claim began when about 200 Aboriginal workers and their families walked off the Victoria River Downs station, 100 kilometres south-east of Tennant Creek, to protest about their pay and working conditions.
After winning back the land, Traditional Owner Brian Pedwell said: "I feel more for those oldies, grandfathers and them older fellas, my mum's uncles and aunties that fought."
Then Federal Indigenous Affairs Minister Nigel Scullion apologised that it took so long for "this land to be returned".
Jawuma, also known as Black Rock, near Borroloola, is only a few hundred hectares of land – but Traditional Owners still fought for its return for decades.
Mr Scullion said at the time:
"The land around Jawuma is of great cultural and historical significance for the Yanyuwa people and I am pleased the title is now back with its rightful owners."
Kenbi, which is across the harbour from Darwin, was one of the highest-profile land claims in Territory history.
Then Prime Minister Malcolm Turnbull congratulated Traditional Owners for their "persistence".
"You and your families never gave up."
Mr Bush-Blanasi says the next step in Indigenous empowerment after land rights is education and jobs.
He is a great supporter of the Learning on Country program, which combines schoolwork with learning about Aboriginal history and culture.
It has been running for 10 years.
The land rights campaign is recognised as having begun in 1963 when the Bark Petitions were presented to the Federal Government by the Yolgnu peoples from North-East Arnhem Land protesting against a bauxite mine lease granted on their country.
Three years later, Aboriginal stockmen went on strike at Newcastle Waters Station, 270 kilometres north of Tennant Creek, demanding equal pay.
That fight was lost – but it was followed by the Wave Hill walk-off a few months later.
The NLC was set up following then Prime Minister Gough Whitlam establishing the Aboriginal Land Rights Commission in February 1973 to inquire into how land rights could be achieved in the Northern Territory.
Justice Edward Woodward's first report was published in July that year and recommended that the Northern and Central land councils be established to present the views of Aboriginal people.
This was revolutionary at the time – for the first time in Australian history, Indigenous people were to be asked what they wanted.
Justice Woodward said the aim of land rights was: "The doing of simple justice to a people who have been deprived of their land without their consent and without compensation.
"I have felt very strongly the lack of any cohesive organisation linking these various people to whom
I have spoken.
"There is no body or council which can speak for the Aborigines of the Territory as a whole. … They have no means by which they can formulate a generally supported claim or make their voices heard in a way likely to influence ultimate decisions."
Meetings were held with Traditional Owners throughout the NLC's region in 1973 and early 1974 in a massive consultation campaign.
The Land Rights Bill was drafted, but the Whitlam government was dismissed before it was passed – but not before Whitlam made the historically significant gesture of pouring a handful of red soil into Vincent Lingiari's hand on
16 August 1975.
It was left to the Fraser Government to pass the Aboriginal Land Rights (Northern Territory) Act, which was intended to be a model for national land rights legislation. But this Australia-wide vision was defeated by opposition from state governments and the mining industry.
Sadly, many Traditional Owners died before seeing their land claims succeed.
As Mr Bush-Blanasi says: "Aboriginal people have never given up on the struggle for land rights. And that shows our determination, ambition and great affiliation to our land."
CELEBRATING SUCCESS
A commemorative function will be held at Christ Church Anglican Cathedral on 25 September 2023 – the hall where the first Northern Land Council meeting was held was destroyed by Cyclone Tracy in 1974.
A more casual event will be held in the Great Hall of Parliament House that evening.
On 26 September, a travelling photo exhibition will be opened at the NT Library.
And on 29 September, a public celebration will be held, including a bunggul (traditional dance and music performance) followed by an open-air concert featuring some of the Territory's and Australia's best music groups and performers.
Celebrations will continue next year with the opening of an online education portal, and publication of a coffee table book and children's book.
TIMELINE
1963 – the Bark Petitions: Yolgnu peoples from North-East Arnhem Land present the Federal Government with a petition of bark paintings protesting a bauxite mine lease granted on their land.
1966 – the Wave Hill Walk-Off: Gurindji stockmen and their families walk off Wave Hill Station, demanding fair wages and the return of some traditional lands.
1967 – constitutional change: 91 percent of Australians vote in a referendum to give the Commonwealth power to make laws with respect to Aboriginal people and count them in the census.
1971 – the Gove land rights case: Yolgnu peoples of Yirrkala unsuccessfully seek a court order restraining the Nabalco mining company's operations.
1972 – Tent Embassy: Aboriginal peoples set up a tent embassy on the lawns of Parliament House in Canberra to protest the lack of land rights and other issues.
1973 – commission of inquiry: the Federal Government appoints Justice Edward Woodward to look into ways to Aboriginal land rights in the Northern Territory. The commission's first report recommends the establishment of land councils in the Central and Northern regions of the NT to represent the views of Aboriginal people. The first NLC meeting is held
1975 – Gurindji success: Prime Minister Gough Whitlam returns land to the Gurindji people almost a decade after they walked off Wave Hill Station.
1976 – land rights: Aboriginal Land Rights (Northern Territory) Act is passed by Parliament of Australia with bipartisan support.
1977 – Most Aboriginal reserves become Aboriginal land with freehold title held by local Aboriginal people.
1978 – Yolgnu justice: 15 years after the Bark Petitions were delivered to the Commonwealth Parliament, Yolgnu people receive title to their land through the Land Rights Act.
1992 – Mabo: the High Court of Australia ruling in the Mabo v Queensland case grants Native Title rights.
2008 – Blue Mud Bay decision: the High Court of Australia grants Aboriginal peoples sea rights to about 85 percent of the NT coastline.