Airducter
NEW GENERATION
The Northern Territory's leading commercial and industrial air conditioning and mechanical services company is not resting on its laurels – instead, the business is planning for the future.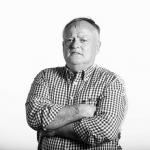 Words by

Nigel Adlam
Published

01 July 2020

Darwin-based Airducter, which has been operating since 1983, has begun to move a younger generation into key positions to drive the business forward.
Dominic Fracaro, who started the company all those years ago, says: "We have a great young team of Territorians coming through, which we have trained and invested in as part of the succession planning that we put in place a few years ago." That doesn't mean the older, more experienced workers – including workaholic Dom himself – are stepping aside.
They are still hard at work ensuring that their knowledge is passed down and that clients get continuity of the same professional first-class service they have come to expect from Airducter. Dom has always been keen to give young Territorians a chance to learn a trade and this has ensured that Airducter has been able to develop its team from within its own ranks. Airducter has always been keen to push training and, in particular, Indigenous training and is keen to increase employment opportunities for Indigenous people in all facets of its operations.
Two examples are Troy Pollard and Patricia Seden. Troy started with Airducter as part of a Larrakia training program. "He has worked hard for the past 10 years and is a much-valued member of our team," says Dom. "He is now our Workshop Manager and we are very proud of Troy's achievements." Patricia started at Airducter in a part-time capacity at one of the site offices and has since moved through the ranks of the business.
Having successfully completed further study, she is now competently looking after Airducter's accounts payable, receivable and payroll. Another Indigenous trainee, Damien Roe, is a second-year apprentice in sheet metal and is excelling in his trade.
"Damien is going to be someone to watch. He is a terrific sheet metal worker, but I dare say his knowledge and maturity will ensure that he will be promoted into other areas of the business once he finishes his initial trade."
Another area within the business to benefit from apprentice training is in mechanical fitting where staff are continually being trained to meet the demands of the company's long-term contracts with Territory hospitals.
Dom says: "It is important to ensure that we have the expertise to not just manage the current technology but also the ability to grasp new technology as soon as it becomes available. Airducter has always been at the forefront of the industry."
Airducter, which has a specialty in hospital services garnered from more than 30 years of working on hospital sites, has just finished a $22 million contract at the new Palmerston Regional Hospital. The contract was won against stiff competition from big interstate companies.
Dom says: "The Territory Government is to be commended for keeping the work in the Territory and having the confidence in the local business community to be able to do the work. All of our labour was 100 percent local and our supplies were gained through local suppliers."
The company takes its social responsibility seriously Apart from employing Territorians and buying local wherever possible, you will see the Airducter logo on many sporting jerseys around the Territory, including the Katherine South Sports Club and the Nightcliff Dragons Pink Day.
Organisations such as the Lord's Taverners NT, Rotary, Charles Darwin University Foundation and the Museum and Art Gallery of the Northern Territory have also been recipients of the generosity of the business and organisations that the team at Airducter take pride in helping out. TQ
CONTACT
Airducter
672 Stuart Highway, Berrimah NT 0828
08 8984 4885
airducter.com.au