Menzies School of Health Research
MENZIES ON THE FRONTLINE
Darwin-based health researchers are extending their war on drug-resistant bacteria.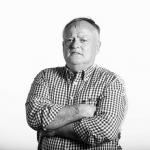 Words by

Nigel Adlam
Published

01 October 2019

Menzies School of Health Research has more than 35 years of experience in running world-class health research programs. It conducts programs that have a direct impact on the health of our population, including major recent initiatives such as HOT NORTH and Hearing for Learning.
HOT NORTH is a multi-disciplinary collaboration between eight of the leading research institutes in Australia and involving more than 50 researchers.
The Federal Government-funded initiative has five themes: skin health, respiratory health, vector borne diseases, chronic disease and antimicrobial resistance.
Menzies Director Professor Alan Cass says antimicrobial resistance is a massive health problem with serious consequences.
"Infections we have treated successfully for 50 years are becoming resistant to drugs," he says. "For some infections, this might lead to us having no effective antibiotics available for treatment."
The reasons for this emerging resistance are varied and complicated. Several diseases, such as multi-drug resistant tuberculosis and multi-drug resistant E.coli infections, are particularly worrying health workers. Both are common among our neighbours in South-East Asia and could spread to Australia. Menzies teams are working off-shore, with in-country partners, to address this global health issue.
Bacteria are evolving rapidly to become resistant to antibiotics that would have killed them only a few years ago for several reasons, including:
Overuse of antibiotics in both humans and animals
Health practitioners prescribing broad spectrum antibiotics when simpler, targeted antibiotics would be effective
Poverty and overcrowding in housing leading to higher transmission rates of infection
Menzies, which attracts some of the brightest young health researchers in Australia, is gathering data about the extent of antimicrobial resistance in hospitals and clinics across northern Australia, helping health practitioners in each region to prescribe appropriate antibiotics.
Chronic disease is another major threat to the health of many Australians. Professor Cass says childhood obesity and diabetes represent a growing problem in Australia, particularly in Aboriginal communities.
Diabetes used to be found most commonly in older adults; type 2 diabetes is now increasing in people under the age of 25.
"The increase in childhood obesity leads to a predisposition to diabetes and other chronic disease. This is not a problem unique to the Indigenous population, but it is a rapidly growing challenge among Indigenous people. If you develop diabetes at a young age you're more likely to have other complications, which can be fatal, such as kidney disease before the age of 40, blindness, and damage to blood vessels leading to amputation, heart attack and stroke."
Another major health program conducted by Menzies is the Hearing for Learning initiative. This program is jointly funded through a partnership with the Territory and Federal governments and the Balnaves Foundation. The $7.9 million community-based service enhancement program aims to bring locally-based ear health project officers into existing services to help Indigenous children with ear and hearing problems.
Menzies research has shown that up to 90 percent of Aboriginal children in remote communities have experienced middle-ear infections in the first 12 months of life. This can have a dramatic impact on hearing, the development of language, school attendance and achievement.
This new project will work with 20 communities, employing part-time ear and hearing clinical and education support workers and screen 5000 children aged up to 16 years old. The ultimate goal is to work with communities to establish reliable, sustainable, culturally appropriate services that ensure every ear of every child is healthy and hearing every day.
To learn how you can help Menzies School of Health Research in its critical work, visit www.menzies.edu.au TQ