ANINDILYAKWA LAND AND SEA RANGERS
MEET EDNA, THE DOG TOADS LOVE TO HATE
A specialist-trained detection dog named Edna is helping to keep one of the most pristine islands groups in northern Australia free of a deadly invader – the cane toad.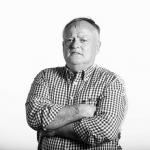 Words by

Nigel Adlam
Published

01 January 2021

The five-year-old golden Labrador has been trained to sniff out the odour of one of the world's worst invasive species.
Cane toads were first introduced into Australia from Central America in 1935, and since then and have marched across northern Australia, resulting in huge declines in native wildlife.
The toads have glands on their backs that secrete a toxin fatal to native animals that try to eat them.
Edna has been a key part of Anindilyakwa Land and Sea Rangers biosecurity team on Groote Eylandt for four years. Her handler, Quarantine and Biosecurity Officer Tom Lawton, whose role is funded by mining company South32 GEMCO, says the sniffer dog is great at her job.
Dog and handler are professionally tested every year – and pass with flying colours. Edna scored 96 percent in her last validation testing and Tom was judged to accurately read her body language when detecting toads.
The Groote archipelago is one of a few places in northern Australia that is free of cane roads, resulting in healthy and abundant populations of threatened species.
"You don't see many goannas on the mainland nowadays but they're still common on the archipelago," says Tom. "And a northern quoll anywhere near Darwin makes front page news, but it's not uncommon to have them scavenging on the BBQ hot plate or getting in the wheelie bin looking for food scraps late at night on Groote.
"We want to keep it that way – the Groote Archipelago is a safe refuge for these threatened and endangered species." Edna checks freight on every barge arriving on Groote, – ensuring there are no unwanted, toxic stowaways from the mainland.
The Labrador was trained by renowned Brisbane-based dog trainer Craig Murray, who trains dogs for all types of work, including rescue and police work. He has even successfully trained dogs to sniff out invasive ants in Queensland – the electric ants are only 1mm long, about the thickness of a credit card.