McMahon Services
MCMAHON SERVICES NT: STRENGTH IN DIVERSITY
Award-winning McMahon Services is carrying out a historic demolition job to make way for one of the Northern Territory's most ambitious projects – the revitalisation of Darwin's city centre.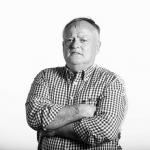 Words by

Nigel Adlam
Published

01 October 2020

The company and its Indigenous owned partner Intract are knocking down the Chan Building, which has been used for everything from public service HQ to parliament since it was built in the 1960s.
The Chan Building, at first called simply Block 8 but later named after late Legislative Assembly President and Darwin Lord Mayor Harry Chan (1919-69), is being demolished as part of a masterplan to redesign State Square. Indigenous engagement on the project peaked at over 30 percent.
"That's a great achievement," says McMahon Services NT state manager Mick Laidler. "It demonstrates that our close collaboration with Intract works very well."
Much of the material from the demolished three-storey building will be recycled. For instance, the concrete is being sent to Darwin-based Ostojic Group to be crushed and reused in road building. And all the salvaged furniture is being taken to HPA to be sold in the charity's Shoal Bay recycling shop.
As much metal as possible will also be reused.
McMahon, which won the Chan Building contract against stiff opposition, has some of the best demolition equipment in Australia. But it does a lot more than knock down old buildings.
The company, which has more than 50 local permanent staff and uses only Territory-based subcontractors, has a huge range of capabilities, including the full spectrum of general and commercial construction, civil engineering and construction, from major bulk earthworks to detailed construction and engineering work.
"You've got to be diverse," says Mick. "We pride ourselves on that. If you're a one-trick pony the work will dry up. "We do a lot of the high-risk work that other companies won't do – and we do it well."
McMahon Services and Intract have offices in Darwin, Alice Springs and Katherine; Intract also has offices in Maningrida and Gunbalanya. Infrastructure, Planning and Logistics Minister Eva Lawler says the demolition of the Chan Building is creating jobs.
"Supporting Territorians with a pipeline of works is critical to the Territory's economy and for it to rebound," she says. TQ
McMAHON SERVICES CAPABILITIES
• Civil construction
• Building services
• Industrial and resources construction
• Food and beverage construction services
• Asbestos and hazardous material removal
• Demolition and decommissioning
• Environmental remediation
• Industrial services
• Crane and rigging
• Roofing and cladding
• Concrete construction
• Scrap metal services
• Marine contracting
• Indigenous engagement
• Emergency response and crisis management
• Temporary grandstands, scaffolding and events infrastructure