Anindilyakwa Aboriginal Art Centre
MAICIE'S MONSTER FISH
Indigenous artists from Groote Eylandt are taking the world by storm.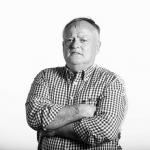 Words by

Nigel Adlam
Published

01 October 2020

Their painting, carving, basket weaving and now textiles are recognised by art collectors, dealers and galleries from Parap to Paris.
Two accomplished artists, Maicie Lalara and Annabel Amagula, returned from a skills development course in Indonesia full of new ideas. Their textile designs were modelled on the catwalk at a Jakarta fashion show.
"We enjoyed ourselves, seeing the modelling of our designs," says Annabel. "I liked seeing the other fashion – it was different and gives me ideas."
Maicie has since created a Monster Fish series out of ghost nets, wire and textiles. Her largest piece will be exhibited at the Northern Centre for Contemporary Art in the Darwin suburb of Parap before going on national tour.
The work took her more than six weeks. Smaller pieces have been bought by a French gallery and put on display in a gallery in Paris.
"The nets wash up on our beaches from overseas," says Maicie.
"They can be floating for months, killing turtles and sharks. "I thought it was right to make something good out of the nets.'' Maicie and Annabel gave two online talks and workshops during the Darwin Aboriginal Art Fair in August.
Their weaving workshop was particularly popular – people in lockdown in Victoria even took part. Groote artists help the Anindilyakwa Land and Sea Rangers clean up the beaches and some of them now use marine debris – everything from bottle tops to massive ghost nets – to make art.
Arts Centre coordinator Aly De Groot says the ghost nets are often turned into striking baskets.
"The work is very distinctive – there's nothing like it in the world." Anindilyakwa artwork is sold through a gallery on the island, by dealers throughout Australia and online.
To buy the most unusual Christmas gift of your life or to buy a gift card, visit https://anindilyakwaarts.com.au/