Liandra Swim
LIANDRA'S IN THE SWIM
Liandra Gaykamangu's stylish and sexy Territory swimwear captured all the headlines when it opened the prestigious Pacific Runway Fashion Show in Sydney in 2019.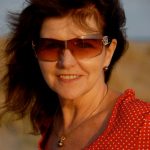 Words by

Nannette Holliday
Published

01 July 2020

"It was exciting but surreal. I've only been in business since January 2018," she says. "To be included among the 20 Pacific designers was a real honour." Liandra, 29, is a Yolngu woman who was born in Gove, and her family is from Milingimbi. The qualified teacher established Liandra Swim while on maternity leave with her second child, Zion.
She was hoping she'd never have to go back to teaching. And while she hasn't, she now has another baby, two-month-old Nia. "Juggling two young children and a business is like having three babies at once." Her oldest, Natalie, is nine and enjoys being the "helpful big sister".
Liandra is a representative of the Futures Forum, a group of 50 young Indigenous entrepreneurs, which has helped her on her fledgling journey. As an ambassador of the group, she was invited to speak at the 2019 World Indigenous Business Forum in Vancouver, Canada. Her self-funded Liandra Swim creations are unique, fresh and colourful — a striking mix of western style and Indigenous designs — unlike anything available.
"Each piece is individually designed and representational of my heritage, telling a unique story." Named after inspirational Indigenous Australian women, each piece celebrates positive Indigenous female role models within the broader community. For instance, the Jessica set is named after Jessica Mauboy.
"I love the beach. I have great childhood memories swimming, surfing and camping by the beach. It's what I want to capture in the range. "I also care about the environment, and we're evolving into a sustainable brand." Liandra's swimwear fabric is made from regenerated plastics collected from the ocean. The packaging is from cassava plants, which is 100 percent biodegradable when left in the elements — taking six months maximum to decompose safely.
"Each piece of our new collection is reversible too, creating two swimsuits in one." Liandra Swim boasts two collections made up of four distinctive prints and 20 different designs — three full-piece options and eight bikini separates. With low-cut, mid-cut and high waisted options, you can wear what you want, depending on your personal style.
The best part is there's a suit to fit everyone's budget. Liandra Swim is exclusively available online and offers free express delivery Australia-wide. "Our promotion is mostly through social media at present, but we're on track to turn our first profit this year, which I'm pleased with." TQ
CONTACT
Shop Now
@liandraswim