Sarah Lyn
LEADING FASHIONISTA SURVIVES AND THRIVES
Vivienne Lee always had a passion and love for fashion, but she never imagined she'd ever own a shop – let alone be celebrating 20 successful years in Darwin.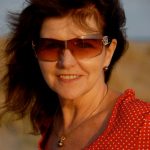 Words by

Nannette Holliday
Published

01 July 2020

After working at Sarah Lyn for a few weeks to evaluate the business for her accountant, Kevin Blacker, he suggested she should buy it. The business expanded twice at Casuarina Square but eventually outgrew the area and moved to Jape Homemaker Village. Sarah Lyn Lingerie and Fashion Boutique later settled across the road in Jimmy Lay's Millner Plaza on Bagot Road.
They expanded again recently and now cover 420 square metres. The boutique is renowned for their luxurious fashions and quality lingerie range. "My staff are all specialised in personal fittings, which is a rarity these days, but I feel it's important. Our range and customers are our priority. We want them to feel comfortable and special."
Exclusivity is also essential. Fashions include Joseph Ribkoff, Frank Lyman, Verge, IONA, Jessie Harper, Sacha Drake and Tani Zaliea. "Because Darwin is small, I've always ensured I have no more than two or three different sizes of any fashion style," says Vivienne. Lingerie brands include Simone Perele, Prima Donna, Triumph, Berlie, Chantelle and Naturana.
There are J cups for the larger women, a wide range of sports and maternity bras, and an excellent range of wirefree bras. "We're also the only store in Darwin that sells compression garments for women who have had breast reductions and augmentations. "We gladly assist gents in selecting their loved one a special gift, or we offer gift vouchers."
Vivienne is known as Australia's best bra fitter, and she's proud of the title. She works with surgeons to create special-needs bras, too. She thanks Shirley McIntosh – "from the beginning, she taught me everything about lingerie". Vivienne and the team have an eye for detail, excellent customer service, and a strong desire to ensure customers look and feel amazing. "We've reduced our hours during Covid-19, but we've remained open seven days a week. It'll take more than this to make me give up."
Vivienne arrived in the Territory with her parents at the age of two, 61 years ago. She loves the Territory, her partner Nigel, her "fabulous" team and the loyal customers over the years. "Without them we wouldn't be where we are now — thank you all. And thank you Territorians for shopping local." TQ
CONTACT
Sarah Lyn Lingerie & Fashion Boutique
Shop 3, Millner Plaza Cnr Fitzgerald Street & Bagot Road, Millner
08 8985 5616