Feature
LAKSA'S RICH HISTORY
Most visitors to Darwin are shocked – and delighted – at the quality of Asian food, especially the laksa.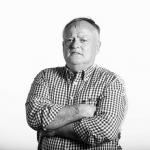 Words by

Nigel Adlam
Published

01 January 2020

Some say that the city serves the best laksa this side of Asia; others say that the fresh, top-class ingredients make it the best anywhere in the world.
Postings on trip advisor range from "awesome" to "unbelievable" to "addictive". One says simply: "To die for."
Praise is heaped on our laksa whether it is served in a classy restaurant or from a market stall – the best market laksa stalls literally attract long queues of patient, salivating customers.
In fact, laksa is now so much an integral part of the Darwin diet that a stall selling excellent laksa can literally "make" a market.
Some laksa cooks have become minor celebrities – and they guard their recipes like … well, like Coca-Cola and Heinz baked beans.
One laksa maestro, Guo Yang Yei, who is known as Mary, says the secret to her success is simple: fresh ingredients. Not surprisingly, she has gained a cult following at Parap market.
Many eateries claim the title of Best Laksa in Town.
One restaurateur was known to have been deeply insulted when his laksa was described as the "second best" in Darwin – the interstate diner who posted the comment thought he was being complimentary, not realising he was blundering into a culinary debate where angels fear to tread.
A food critic from television station SBS described one Darwin laksa as "soul-affirming" – nobody but the author knows what that means but it sounds like a compliment.
Whatever the rights and wrongs of the "are we the best in the world" argument, there is one indisputable fact: Darwin is the laksa capital of Asia.
Indonesia and Malaysia have traded insults – and once had a minor diplomatic incident – over the origins of laksa. Both claim it as their own.
One fact is known: it is a lovechild.
The spicy noodle soup originated in the Peranakan culture, which developed after Chinese traders settled in Indonesia, Malaysia and Singapore, mainly from the 15th to 17th centuries – and married Malay women.
The Chinese brought their noodle soup with them. And the Malay women immediately thought: "I know what this needs – something to spice it up."
Laksa was born … fusion cooking at its finest.
The origin of the name is unclear. It may originate from the Sanskrit word "laksha", which means many in Hindi – a reference to the many ingredients. Or it may come from the Persian "lakhshah", a kind of vermicelli. Or it may stem from "la sha" – pronounced "latsa in Cantonese" – which means "spicy sand", a reference to the gravy.
Of course, there is no one laksa – communities have always mixed and matched ingredients according to availability and taste. So, in reality, there are as many laksas as there are cooks.
The key ingredients in most Darwin laksas are chicken and seafood. But one adventurous cook has dabbled with crocodile. And it's even possible to get laksa ice cream.
Passions about types of laksa run hot. One restaurant critic even referred to the Johor laksa from southern Malaysia as being"heretical".
It is not known when laksa first came to the Top End.
Darwin has long been known as an "Asian city" – Chinese outnumbered Europeans 6-1 in 1900; Darwin kids, regardless of ethnic background, are more likely to be brought up eating rice than potatoes.
Laksa may have taken hold as everyone's favourite breakfast, brunch and lunch with the arrival of migrants from South-East Asia in the 1980s.
It's not surprising that laksa is to the Top End what souvlaki is to Greeks and ragu alla bolognese is to Italians.
After all, Darwin is the most multicultural city in Australia – nearly 30 percent of the population was born overseas.
Well-travelled people say that it is also one of the happiest and most harmonious multiracial places in the world, a city proud to have a humble but delicious Asian soup as its "national" dish. TQ