Inpex
INPEX SUPPORTS NO MORE CAMPAIGN
Charlie King is a much-loved institution in the Northern Territory and a familiar voice to many – having called the weekend footy for the ABC for more than two decades.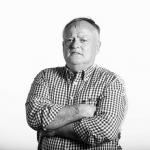 Words by

Nigel Adlam
Published

22 December 2021

INPEX-operated Ichthys LNG welcomed the veteran sports broadcaster to the onshore facilities at Bladin Point recently to talk to the workforce about the No More campaign and to provide support with the implementation of the INPEX Australia Domestic and Family Violence Action Plan 2021-2023.
During the 16 Days of Activism against Gender-Based Violence, Charlie and Tayla Falconer from Catholic Care NT addressed INPEX and contractor employees to raise awareness about the shocking statistics of family violence in Australia and to start the conversation about what we all must do to stop family violence.
Charlie told the story of how his parents met in Darwin.
His Irish father, a professional cyclist, was riding from Melbourne to Darwin and, by accident, got stuck in Darwin for an extended period due to illness and while being nursed back to health, met Charlie's mother, a Gurindji woman, who was his hospital aide.
He did not experience violence in his own home growing up, but having been involved in child protection for 15 years, a serious incident of domestic abuse changed his life and set him on his present path to end family violence.
In 2006, Charlie visited 46 communities in a 12-month consultation focussing on men's groups to bring home the important message of men taking the lead in combating the growing level of violence,
"The men would come out to talk footy with me and then we would get to the other issues.
"It was during this time, when family violence was being discussed, an elder called me aside, wagged his finger and said, 'No more'.
"A few weeks later, in another community, on realising the endemic nature of family violence throughout Australia, another elder approached and said, 'We need to link up.' A campaign was born."
From this the No More campaign took its name and the symbol of linked arms.
Family violence is not exclusive to Indigenous communities and the campaign has reached out to the wider Australian community.
Central to the program is the respect of women. While men may have the power to be destructive, they have an equal power to care and look after their families. The reduction of family violence needs men to stand up, as individuals and a group, and take ownership for finding a solution.
Sport was the ideal platform to engage with men on a large scale and is the ideal place to engage with men on family violence.
Today, the No More campaign has links with more than five sporting codes and nearly 100 teams – and is still growing. A unique No More approach to family violence has been developed: the domestic violence action plan.
The concept of a domestic violence action plan started with NTFL team Nightcliff and has since rolled on to be embraced by national teams, such as the NRL's Parramatta Eels.
The linking of arms has become a staple of big matches, such as recent NTFL grand finals and national sporting code visits to the Territory.
"When we link arms as a symbolic gesture, we are referring to the words of Indigenous elders."
INPEX General Manager Northern Territory Roland Houareau welcomes the opportunity to raise awareness among Ichthys LNG employees.
"As an industry leader and a responsible corporate citizen, INPEX Australia recognises the importance of proactively engaging in social and community issues. During the last few years, we have seen a significant increase in family and domestic and family violence-related assaults across Australia – the global pandemic not helping the situation.
"INPEX Australia has committed to the implementation of an action plan against family violence.
"This action plan builds upon existing policies and processes and aims to improve awareness that domestic and family violence is a significant issue in society affecting individuals, families, communities and workplaces.
"We are very grateful to Charlie King for taking the time out to help us raise awareness and understanding of this issue."
As well as raising awareness about the damning statistics surrounding family violence in Australia, practical tips on things both men and women can do to end family violence were shared with the workforce who have now joined the campaign and linked arms to demonstrate their personal commitment to end family violence.
CHARLIE'S MISSION
ABC radio sports broadcaster Charlie King's extensive work in the community led to the formation of the No More campaign, which encourages AFL teams in the Territory to protect the women and children around them. Charlie has been involved in child protection for 15 years and noticed that men rarely took part in community action against violence. He believes men are often demonised and seen as the perpetrators and, therefore, feel unable to be part of the solution. He has addressed this issue by working directly with men's groups to bring home the important message of men taking the lead in combating the growing level of violence.
To find out more, visit www.nomore.org.au/about-cause