FINDING THE RECIPE FOR BUSINESS SUCCESS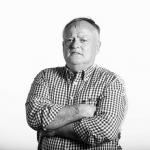 Words by

Nigel Adlam
Published

30 September 2022

Darwin-based company boss Adam Stockwell compares being good at business to perfecting a recipe – you have to find the ingredients needed to excel.
He is much closer to working wonders after taking a course with the Australian Centre for Business Growth.
The module was part of the Business Acceleration Program (BAP), an initiative of the Northern Territory Government.
Alice Springs-born Mr Stockwell, managing director of Thinkwater, a water infrastructure design, supply and infrastructure company, says finding time for the program was worth every minute.
"It covered every aspect of business," he says.
"It made me look at our strengths and weaknesses in an honest, open way.
"You need the right mix of ingredients to find the way to operate effectively in business."
Darwin-born Steve Camilleri, who invented a revolutionary 3D metal printer called SPEE3D, says the program is a good way to look at business challenges afresh.
"It's an incredibly effective way to grow," he says.
The Business Acceleration Program teaches business owners, chief executives, managing directors and executives what they need to do to grow their NT companies.
The program was launched in 2018 and is designed for companies with five-199 employees.
Thus far, 134 NT companies have attended Assessment Clinics, 19 completed Growth Ramps, 21 have graduated from Growth Modules, three have completed Execute & Grow.
Twenty-three companies are registered and completing these programs this year.
Dr Jana Matthews, ANZ Chair in Business Growth at the Centre, says:
"We are very excited to see the uptake in the BAP programs and the resulting growth of small and medium companies in the Northern Territory.
"Five years ago the NT Government recognised the need for a program that would teach business owners how to grow, since many of them do want to grow, but don't know how.
"So the centre developed a set of structured programs which are taught by growth experts – people who have started, grown and exited companies, and have first-hand knowledge about what 'to do' and 'not do' to lead, manage and grow a company.
"As the BAP results demonstrate, business owners can be taught how to grow their companies. NT companies who enrolled in BAP have grown, having added 338 jobs and generated an additional $110.3 million in revenue since the program began.
"Without question, the BAP has enabled NT companies to increase revenue and profits, and create more jobs for Territorians, and by doing so, contribute to the goal of the NT becoming a $40 billion economy by 2030."
Contact the centre at centreforbusinessgrowth.com for more information or to enrol in the Business Acceleration Program. There are limited numbers of places remaining in the current programs.