ESTELLE BLOSSOMS IN BUSINESS
Estelle Cornell was named Small Business Champion Woman Icon at the inaugural Australian Women's Small Business Champion gala dinner awards ceremony in Sydney in November last year.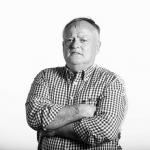 Words by

Nigel Adlam
Published

10 July 2023

"I am absolutely overwhelmed and humbled to accept this recognition and award," she said.
"Anyone in business knows that every day is a challenge and an opportunity. We have a dream and we work hard to achieve this."
Estelle came to Darwin in 1980 for a holiday – and never left.
She was working at the telephone exchange for Telecom, as a telephonist and supervisor.
Estelle, who comes from Mundubbera in Queensland, was excited to see the world, to meet new people and to explore everything Darwin had to offer.
After meeting her husband Peter in Darwin and marrying in 1983, she soon realised that everything that she had learnt as a child was going to come into use.
Her husband fell ill and Estelle was thrust into the position of operating a transport and logistics company, Porky's Pickups.
By her mid-20s she had secured her HR licence and escort/pilot licence to escort wide loads throughout the Territory.
Estelle's upbringing in the fruitgrowing town of Mundubbera prepared her for the big tasks and challenges ahead.
She remembers her mother always telling her: "Get up, dress up, show up and never give up" – words that she lives by still to this day.
"I had amazing parents," she says. "They were my heroes."
Estelle remembers jumping up into the truck with her dad and going with him to work because she would rather do that than go to school.
Her parents owned Mundubbera Livestock and General Transport.
"I remember my father and grandfather teaching me how to drive a truck on the Bruce Highway when I was just a kid. They were definitely different times back then."
It is no surprise then that while raising three small children and operating a trucking company with her husband Estelle saw an opportunity to open a garden centre.
Her commitment to her family, her hard-working values and her will to never give up were the building blocks to her success in what Allora Gardens Nursery has become today.
"I remember purchasing this block of land with my husband in 1994 as we needed somewhere to set up base when he was unwell and needed to travel for his health."
The property was mainly bushland and a couple of rundown shadehouses.
Estelle remembers people asking over the fence when the garden centre was going to reopen.
She knew nothing about horticulture but saw the opportunity and ran with it, spending the next few years learning the hard way that it's not easy growing plants, tackling pests and diseases and monitoring trends and customers' demands for greenlife, especially living in the remote town of Darwin.
Allora Gardens Nursery is now a destination centre, which offers a welcoming and friendly environment for families, dogs, plant enthusiasts and interstate travellers.
With a cafe in the tranquil gardens and a shed where they run workshops for community groups and kids, Estelle has created a place that embodies her love for people, her appreciation for her community and her drive to evolve and deliver a quality service.
Estelle's business has survived family ill health, the global financial crisis, Cyclone Marcus, robberies and vandalism, as well as the personal sacrifice it took on Estelle herself.
As challenging as it has been over the past 28 years of Allora Gardens Nursery, Estelle says that she would not change it.
"Allora has given me a place where I can grow, where I can laugh – it has given me endless opportunities to meet like-minded people all over the world that have the same love and passion for what they do."
The mother of three says that she has done everything in business for her children and is the proudest mum in the world for all that they have accomplished. Her eldest, Matthew, is a professional dancer and choreographer based in Sydney. He travels the globe with his art form.
Tiffany, a singer and songwriter based in Darwin, manages Magnolia Flower Merchants in the city.
And Christian has bought into the family transport and logistics company and runs the fleet of Darwin Container Services.
"I always taught my children that you can do anything you want in life if you focus and work hard for it," says Estelle.
Not only is Estelle business driven but she also enjoys playing music and fundraising as the Vicar of Dibley to raise money for Variety NT, a charity that she and her family have supported for more than 35 years.
"I love giving back to the community that has given me so much support and love over the years," she says. "I wouldnt be where I am today without them."
Estelle has expanded over the past few years and is the owner of three florist shops in Darwin: Magnolia Flower Merchants, Estelle's Florist and Allora Gardens Florist.
"I always loved flowers when I was young, so being surrounded by them now in business is a dream come true.
"It's funny where life journey can take you if you are open to learning and hard work.
"I am grateful each day and am embracing all that life has to offer, including being a grandmother.
"I have no future plans to slow down… if anything I am excited and feel like this is just the beginning of the next chapter of my life of learning, teaching and making the most of my beautiful family and life, with no thoughts of retiring."
"I love my work. I'm very grateful for where I am."