Department of Trade, Business and Innovation
ELISHA'S HAPPY TO TAKE ADVICE ON HOW TO GROW
Structural engineer Elisha Harris and the two other directors of her ambitious company made a big decision late last year: to seek advice.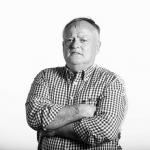 Words by

Nigel Adlam
Published

01 July 2019

They signed up for the world-class Business Acceleration Program, an initiative of the Northern Territory Government, hosted by the Darwin Innovation Hub and delivered by the Australian Centre for Business Growth. The intensive program helped Elisha, Richard Oppusunggu and Bill Kmon "gather their thoughts" about the direction of their Darwin-based project management and engineering company, Harris Kmon Solutions.
They had a big decision to make – whether to "stay still" or expand. After attending a one-day Growth Clinic and the first of three three-day Growth Modules, the decision was made: expansion. "It was all excellent," says Elisha. "Having that time together and being able to get a framework for growth was a great benefit.
"We gained clarity – and that was very helpful." The Business Acceleration Program is delivered by highly experienced growth experts to enable CEOs, managing directors and executives to understand how their company works and the changes they need to make to grow. "The problem is that we're always so busy doing day-to-day tasks that we don't find time to sit down together to plan," says Elisha.
"The growth experts were all people who had started and run multiple companies, so their advice was very good. "We found the whole process very useful."
Harris Kmon Solutions has grown from humble beginnings four years ago to a thriving business with 14 permanent staff, nine of them based in Darwin. Growth Clinics will be held in Alice Springs, Darwin and Katherine from September, with expressions of interest open for up to 30 CEOs/managing directors from now until 6 August. Northern Territory businesses with five to 200 full-time employees and a burning desire to grow are encouraged to apply.
The Australian Centre for Business Growth has worked with more than 780 companies nationwide, and 98 percent say they would recommend the clinics. The Business Acceleration Program was introduced to Territory businesses in 2018. Thirty-four chief executives and managing directors took part in growth clinics in Alice Springs and Darwin during October. Ten businesses started the first round of growth modules at the Darwin Innovation Hub in February. The Business Acceleration Program is part of the Northern Territory Government's Business Innovation Strategy. For more information, visit innovation.nt.gov.au TQ