Top Didj Cultural Experience
CUDDLES, CULTURE AND CREATION
Cuddle a joey wallaby, learn about Katherine's regional Aboriginal culture and discover your creative side producing Indigenous artwork or spear-throwing — all in a few hours at Top Didj Cultural Experience.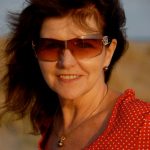 Words by

Nannette Holliday
Published

01 July 2020

While Covid-19 has halted tourism around the Territory and the world, the team at Top Didj have remained active.
"There's been little rest here — building of our new art gallery is underway and lots more is keeping us busy," says owners Alex and Petrena Ariston. The wallabies are missing the extra cuddles and treats, but artist Manuel Pamkal has been busy with the paintbrush, adding to the assortment of traditional Aboriginal artwork and didgeridoos.
"Now is the perfect time to learn how to play the didgeridoo," says Petrena.
In the meantime, jump online to view the collections from Arnhem Land, the Kimberley and the Central Western Desert, home to the Warlpiri people. "Our portfolio of regional artists reflects the diversity of cultures across the region – from Jawoyn, Dalabon and Mayali Aborigines, who have lived in the area for thousands of years."
Top Didj also stocks products from Better World Arts, Injalak and Maningrida communities and MoResin Jewellery. "We'll happily email images if necessary." The gallery is a member of the Aboriginal Art Association of Australia, which promotes integrity, transparency and accountability in the Indigenous art market, setting best practice for quality and ethical standards. Alex and Petrena work closely with the Katherine Indigenous community, helping local artists with employment and accommodation.
After opening Katherine Art Gallery in 1997 and working with indigenous communities across the Top End, they recognised a need for cultural interaction with Katherine's Aboriginal people. It was their passion for Indigenous culture and artwork that led them to establish Top Didj Cultural Experience in April 2009.
Today people eagerly line up to engage with Manuel and other local Indigenous artists to hear their stories, their culture and way of life, plus learn traditional activities, such as Rarrk painting on bark, fire lighting, spear and boomerang throwing. "People love Manuel, and we're so proud of how openly he shares his stories, and way of life living as a kid in the bush." He was the face of AAT Kings Australia brochure in 2019.
The Top Didj Brolga award-winning show promotes a positive experience with Aboriginal people and is the ideal addition for school excursions and conference groups. This online review sums it up perfectly: "We learnt so much about Aboriginal people with humour in a thoroughly relaxed atmosphere and presentation by Manuel.
A beautiful man with a passion for presenting his people's history." – Brisbane family. TQ
CONTACT
Top Didj Cultural Experience and Art Gallery
363 Gorge Road, Katherine NT
0414 888 786