Gabbert Design
CREATIVE DESIGN
One of northern Australia's leading building design firms has returned to the centre of Darwin. Gabbert Design has a smart new headquarters in Cavenagh Street.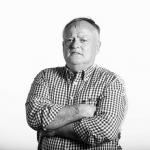 Words by

Nigel Adlam
Published

01 April 2020
In the past year, they have produced concept designs for many of Darwin's most exciting projects, including:
• A multimillion-dollar tourism resort at Little Mindil
• The Arnhem Land Equatorial Launch Australia space base, including launch pad and access roads
• Refurbishment of the Darwin Convention Centre Waterfront Rooms
• Charles Darwin University's CBD campus design, which is expected to play a key role in revitalising the city centre
• A large, attractive playground as part of the redevelopment of Myilly Point Wayne and his team have also designed many major office fitouts, including Channel 9's new headquarters in Mitchell Street, the TIO office, KPMG and the Qantas Club Alice Springs refurbishment.
They have also designed a stunning upgrade to the Knight Frank building in Smith Street, including an eye-catching contemporary new frontage. And the firm is proud to be the designer of the new Paspalis Innovation Cube. Gabbert Design have a proven track record in bringing to life existing buildings and converting them into contemporary functional spaces that re-energise people's workspace. "We create a vibrant space, which increases productivity," says Wayne. "We modernise and create flexibility."
The company designed many of Darwin's iconic restaurants, including the Hanuman, Hot Tamale, Noodle House and Coolalinga Tavern, and worked closely with the developer to bring the Amart development site to fruition in a tough economic climate. Gabbert Design is working on many exciting new buildings, including the new Palmerston Youth Skills Training Centre. The firm has invested in industry leading design software, which allows it to provide imagery and movies that convey the concept design. This allows the client to fully visualise and understand the concept.
"While our software is cutting edge, it still comes back to people, our people," says Wayne. "Our design team has built a reputation on listening to our clients' needs and converting their requirements into stunning visual representations. "This process provides clients with a unique way of understanding the spatial qualities of the building and gives them confidence in the function and form of the design. "Let's face it, our clients are going to invest a lot of money into constructing a building, so why not provide them with every opportunity to get it right?"
Gabbert Design, which is owned by Wayne and his wife Sandra, is in high demand for building design, master planning and interior design work. "Our continued success, even through tough economic times, has always been our ability to listen to our clients' needs and to produce innovative design with functional and practical solutions."
Wayne is a firm believer in the Northern Territory. "While we have had tough times, it has made the business community more resilient through forced innovation and when times change, and they will, Darwin's business community will be ready to take on the challenge more than ever." TQ
CONTACT
2/55 Cavenagh Street, Darwin
PO Box 934, Darwin NT 0801
08 8942 3986