CELEBRATING 20 YEARS OF EXCELLENCE
Darwin-based C and R Constructions is proudly celebrating its 20th year of delivering quality projects.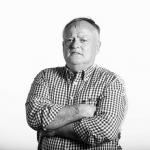 Words by

Nigel Adlam
Published

19 January 2023
It has gone from humble beginnings of two best mates working out of the back of a van to today being one of the most respected and capable project management and building firms in Northern Australia.
C and R is renowned for its professionalism and growing ability to take on big jobs – and is fast becoming a leader in the industry.
It is owned by brothers Caleb and Karl Gotts. Caleb, who is a carpenter by trade, is the managing director.
He still has a hands-on management style and spends a lot of time mentoring young carpenters on site or helping project managers with advice on their project.
Karl, who bought a half share of the business in 2009, enabling the company to expand, is operations manager and manages projects when necessary.
C and R is proud of its humble beginnings. Most of the project managers came up through the ranks after being trained and mentored. Some even started as apprentices. Karl says this gives them the advantage of being very practical and their experience has given them a strong understanding of the whole construction process.
"Managing projects is all about building strong relationships with both the client and the subcontractors by getting everyone to work together towards a common goal," he says.
"We are able to deliver great projects that everyone involved in is proud of. We instill confidence in our team to have a proactive, can-do attitude towards their projects and their mindset."
"Even if the client doesn't notice the little details, it's important for us to get it right – even if that affects the project budget."
"We are proud of our projects and that means doing the extra 1 percenters."
C and R is big enough to take on the big jobs but still small enough to work on a personal level. The company takes safety seriously and is accredited with the Office of the Federal Safety Commissioner..
It doesn't take a "tick and flick" attitude towards safety – instead, the business has a practical approach based on keeping staff on the ground safe.
Caleb, who launched the business with schoolmate Russell Henry, remembers the first contract – laying a $11,000 deck at a house in Anula.
"We were so happy to get the work," he says. "We felt like millionaires winning this contract. But we were young and inexperienced – and lost money on the job. We learned from that."
C and R Constructions went on from that minor mishap to establish an impressive portfolio of projects, including Hidden Valley Motor Sports House and Katherine Fire Station, along with accommodation buildings at Nungalinya College and various school projects.
The company has just finished the $25 million Palmerston Fire Station, and is working on a range of other projects, including the new insectary building at Berrimah Farm, range control building at Robertson Barracks and the new training centre for the National Critical Care and Trauma Response Centre at Bees Creek.
There was a time when winning a $1 million contract was a cause for great celebration – but the business now regularly picks up contracts worth over $20 million.
"We worked very hard to build the company, especially in the early days," says Caleb. "We've built up a very good team of committed members, some of whom have been with us for over 10 years and even a couple that have been with us from the start.
"The company has grown sustainably and built up a reputation for doing excellent work. We're known for our good communication with clients and high quality work. Our reputation is everything to us.
"We've never forgotten our roots and the need to do every job well."
C and R Constructions recently won its first Defence job as a subcontractor with Sitzler.
"We are very happy to work with Sitzler – we feel they have the same principles and values as us."
Caleb bought out Russell and now owns the firm with Karl.
Their late father John, a practical man who built two of the family's homes and helped build a church, was gifted a share in the company when he came to work for the business full-time as a maintenance builder.
He quickly developed a client base and became the business's estimator and project manager for the majority of small works.
"Dad was always an authority figure to us and while he only owned a small portion of the company, he had to be respected because of his position within the family.
"He was the sense of reason between Karl and I whenever there was a major decision to be made."
The brothers recently set up another company, Combined Building Solutions NT, to run the building maintenance side of the business so that C and R can focus on larger projects.
C and R Constructions uses many Territory subcontractors and buys supplies from NT retailers whenever possible.
"We have a tried and trusted core group of subbies and suppliers, although we invite any contractors to submit tenders to us.
"We're Territorians and like to see money spent locally. If money isn't going into the pockets of other Territorians it's lost interstate – it doesn't get circulated anymore.
And that's not good for our economy."
Neither Caleb nor Russell were qualified when they began working for Dave Unwin's Litchfield Construction building business.
Caleb had partially completed an apprenticeship in Victoria before they moved north and was lucky enough to be able to finish his trade as a carpenter while working for Dave.
"After a few years of working with Dave, Russell and I were building up the courage to tell him that we wanted to go out on our own. Before we had a chance to talk to him he pulled us aside and told us he wanted to scale back and semi-retire. This was great news for us and we were lucky enough to be able to take on some of his existing clients.
"We weren't frightened about setting up our own business – on the contrary, we were very excited.
"We were happy to get through those early years and now 20 years has passed fairly quickly."
C and R Constructions has expanded at a steady, sustainable rate, which they believe is partly why they are still here now.
"There is no middle ground in business," says Caleb. "We started out small and grew the business to a point where we had to take the next step and become a big business.
"The transition from small to big takes a lot of work and it's that transition that can send a lot of businesses broke.
"We learned this from experience and were lucky enough to be surrounded by a great group of people that helped us transition without suffering the fate of so many others."
The business was based in a Berrimah factory until growth led to the building of two 500 square metre workshops in Willes Road in 2015 where the company is based now.
People enjoy working for the company because of its focus on continual training, quality and safety. Project managers are individually trained as specialists and then paired with projects that best suit their experience.
As Caleb says: "It's all about maintaining quality and reputation."