BUILDING A BUSINESS IN A MAN'S WORLD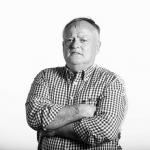 Words by

Nigel Adlam
Published

30 September 2022

Gemma Mackett has played a pivotal role in building a business from the ground up.
And she's done it in an industry where women are still a rarity.
She is the managing director of PCM, a successful Northern Territory bornand- bred industrial maintenance services company.
Gemma is believed to be the only female managing director of a business in that sector in Northern Australia and, possibly, one of a few in the whole country.
She does her best to forge a work-life balance but often works seven days a week.
Not being able to spend more time with her children – Elliana, 14, Chloe, 12, and nine-year-old Nate – drives her to ensure continual success in growing the business, which in turn will allow the balance she strives for.
"We work such long hours and are often away, we understand that's what is required when you set up your own company and we do our best to embrace our family time at every possible opportunity. "As they say, we work for our children at the risk of missing the special moments with them."
This mindset has fostered the company's MUMS@PCM program.
"We recognise the importance of providing mothers with the opportunity to return to the workforce without compromising the stability of their families. The purpose of the MUMS@PCM program is to provide support and training to ease the transition for mothers back into the workforce, allowing them the opportunity to upskill while having flexibility in their careers."
Mothers looking to re-enter the workforce are offered support from Gemma, who understands the pressure of juggling career and life. Gemma's husband Jarrad was a sole trader when the couple decided to combine their skills and set up PCM in 2015.
It seemed a practical move – Jarrad is a highly skilled tradesman and Gemma has experience in finance, corporate law and economics, along with great organisational skills.
She is highly regarded for her ability to engage and relate to everyone she meets.
PCM has enjoyed dramatic growth – it now has 85 staff and operates throughout the Northern Territory and Western Australia in a range of industries, including onshore and offshore gas, defence, mining, rail, marine, and power generation.
It has offices in Darwin, Perth and Karratha.
The company maintains critical infrastructure, such as industrial tanks, bridges, towers and spans, pipelines, wharves and jetties.
PCM's work includes insulation, protective coating systems, abrasive blasting, ultra high-pressure water jetting, hydro concrete demolition, vacuum and waste removal, concrete remediation and fabrication and welding services.
"Sometimes we have to remind ourselves that we have achieved a lot."
Gemma is a strong supporter of the buy local campaign, but says it often fails when a Territory business doesn't have a big brother interstate or international company behind it.
"When tendering for larger projects as a local company we often face struggles against the larger tier 1 vendors or are asked about a 'parent company', even though we're a successful, family-owned Territory company.
"The only way we'll have a parent company behind us is if we become that giant ourselves."
And that is exactly the plan.
PCM is diversifying and has become the first IRATA-certified rope access training centre in the NT.
The centre in the company's newlyestablished East Arm HQ has 600 square metres of internal space for rope access training courses for all levels of experience.
The innovative, industry-leading training centre is designed and configured to replicate the working environments the course attendees will encounter in the workplace, providing a realistic environment to heavy industrial, petrochemical, oil and gas and offshore sectors.
"Rope access is a highly sought-after skill nowadays," says Gemma.
The skill is cost-effective and efficient for companies – and opens soughtafter pathways to well-paid work.
Gemma is proud of the way PCM Group is progressing.
"The beauty is that we are small but mighty, and with the support of clients who continue to award us work, enables us to continue to provide programs such as MUMS@PCM and others while also supporting the local community. "