Darwin Convention Centre
BOSS BURSTING WITH OPTIMISM
Peter Savoff is an infectiously optimistic, positive and energetic man – a glass half full bloke if ever there was one.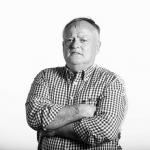 Words by

Nigel Adlam
Published

01 October 2019

He jumped at the chance of becoming the new general manager of the Darwin Convention Centre earlier this year. And not just because he has fond memories of spending time in the city more than a decade ago, but because he believes there is unlimited potential in attracting lucrative conferences to Darwin.
"The people who organise conferences – the key decision-makers – say that it's not just about the dollars, the cost of staging the conference. It's also about the memories that delegates take away with them. And the memories for delegates who come to Darwin are always good. They've done Bangkok, they've done Seoul, they've done Kuala Lumpur. Darwin is different."
Mr Savoff, who has 25 years experience in hotel management, hosted about 15 Asian conference organisers on a recent familiarisation trip to Darwin.
"They were blown away by the world-class convention centre, by the Waterfront, all the great bars and restaurants, and by our beautiful, modern city."
He says the future of the convention centre and the Northern Territory economy as a whole lies to the north – South-East Asia, China and India.
"Local business will always be important to the convention centre – that is our foundation in the community. And we will always pursue conferences from within Australia. But we can attract an enormous amount of business from Asia. We must look to the low-hanging fruit to our north. I see amazing potential."
Mr Savoff says Darwin needs more international air services and welcomes the building of the $200 million Westin hotel on the Waterfront.
Darwin has many conference advantages – for instance, health delegates can be put in touch with the world-class Menzies School of Health Research, education delegates with Charles Darwin University, defence delegates with leading military personnel and mining delegates with global resources companies.
"These people are all here in Darwin. And on top of that, delegates can add a holiday to their conference trip. Darwin is an appealing city – clean, friendly, modern. When clients visit they are impressed by the opportunities and facilities."
He says Darwin has another major advantage – collaboration. Mr Savoff praises the NT Government, Tourism NT, Tourism Top End, City of Darwin and the business events industry for working together to attract conferences to the Territory capital.
"They just get it," he says. "The support we get is incredible. That level of cooperation doesn't happen elsewhere."
He also supports the Territory Government's Turbocharging Tourism drive. "It's clearly working and business growth in the sector proves this to the Government."
The convention centre, which celebrated its 10th anniversary last year, is always maintained in top condition. More than $1 million is being spent on refurbishing the Waterfront Rooms and equipment is constantly being upgraded. The centre is also renowned for excellent cuisine.
Executive chef Toby Beaton has built up a superb reputation for himself and his team since joining the convention centre nearly a decade ago.
"Toby works hard to keep up with the latest trends in food preparation and service. He has developed a new menu, Seven Seasons, which is inspired by the Gulumoerrgin (Larrakia) seasons."
The new menu allows clients and visitors to get a deeper understanding of local indigenous culture and learn more about the land on which the centre has been built. Mr Savoff was leading the Emporium Hotels Group in Brisbane when global venue management group AEG Ogden offered him the Darwin job. Previously, he used to visit Darwin regularly when he was the area director of marketing for InterContinental Hotels for Queensland, the NT and Papua New Guinea.
"I'm astounded at the the great changes in Darwin since I was last here. The Waterfront Precinct didn't exist then.
"I'm so excited to be back. Despite the economic downturn, Territorians are still positive – nobody looks backwards."
Mr Savoff has a swag of university qualifications, including a Bachelor of Business (Hotel Management) from Victoria University, a Master of Business Administration from the University of South Australia and a Master of Commercial Law from the University of Melbourne.
"You should never stop learning, either formally or informally. Professional development is crucial for yourself and the staff."
He is a great believer in occasionally going back to the basics, such as taking a customer service refresher. And that's because his vast experience in management has taught him that anyone can sing their own praises, but there is no better free advertising than a happy customer doing it for you. TQ
CONTACT
Darwin Convention Centre
08 8923 9000
sales@darwinconvention.com.au
darwinconvention.com.au