Bert Built Cattle Equipment
BERT THE BUILDER
Robbie "Bert" Schmidt has an unusual business by anybody's standards.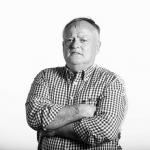 Words by

Nigel Adlam
Published

01 April 2020

He specialises in building portable loading ramps and other equipment for animals – from cows to camels. Alice Springs-based Bert Bilt Cattle Equipment also builds other useful structures, such as sheds and carports – and even does trailer repairs.
"I will give anything a go and will work with people to build them what they want and need." But high-standard cattle equipment, including single-deck cattle crates, is the main service. Robbie adapts his ramps when necessary to handle camels.
"I will work with my customers to personalise the item to their needs. So if you want a gate blocked off, I will do it. "Whatever the animal you farm, we will work with you to create something that suits your needs." He sources his steel from an Alice Springs business and prides himself on only using Australian steel.
Robbie takes great pains to ensure the welfare of the animals. "I try to achieve customer satisfaction and animal friendly equipment." He employs two staff when the economy is doing well, but the dry conditions mean he is working alone for the time being. His philosophy for running Bert Bilt Cattle Equipment is simple but sound: "Dedication, willingness to work with others, taking on advice from others, whether it be good or bad.
"I've built a good working relationship with the cattle industry, which is one of the main industries in the Northern Territory." Robbie was born in Orroroo in South Australia and spent all of his childhood on Witchitie and Bond Springs cattle stations – his father managed Witchitie for the Heaslip family.
He was a ringer on Alexandria station on the Barkly Tablelands in the early 1990s but returned to South Australia where he ended up managing a station. Robbie had what he calls a "change of scenery" in the early 2000s and went to work on mine sites for five years. He settled in Alice Springs in 2009.
His life changed during a particularly wet spell in 2010. "I was day-rate mustering when I went into the shed and started building race drafts. My business grew from there." The 2011 live cattle export ban forced him back to day-rate mustering. "The ban had a very negative effect on the Northern Territory.
It took me 18 months before I struck another weld." And how did Bert Bilt Cattle Equipment get its quirky name? "My name is Robert and my mates have always called me Bert – and I build the equipment, hence Bert Bilt." TQ
CONTACT
Bert Bilt Cattle Equipment
PO Box 3103, Alice Springs NT 0871
0427 809 082