GEOFF TODD
ARTISTIC HOME IN THE NORTH
Celebrated Northern Territory artist Geoff Todd and his now wife Janette Lucas were working as secondary school teachers in one of Melbourne's more notorious schools in 1984 when they saw an interesting advert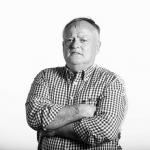 Words by

Nigel Adlam
Published

06 January 2021

It read: "Have you got art qualifications, enjoy the bush, 4-wheel driving, hunting, fishing and are not afraid of single engine aeroplanes?"
Geoff, whose figurative style in painting, drawing and sculpture has since earned him a dedicated army of admirers, says: "I knew the job was for me."
The work was in Maningrida, a remote Aboriginal township in Arnhem Land – about as far away from Melbourne as you can get.
"After packing up the ute, we ran screaming to paradise.
"We were the first to drive into Maningrida after the Wet, so new growth, fallen trees and no tracks to follow meant we got lost more than once. No made roads then.
"We survived on oranges and our mothers' Christmas cakes until found by locals who wondered why we'd been driving in circles for two days."
Geoff and Janette spent three happy years in Maningrida until moving to what was then Batchelor College as lecturers.
"So for many years I found myself working with Aboriginal families and whether working with the men or the women, there were always kids – the community kids.
"These children were an inspiration for me. Their stoic presence, often in adversity, the enormous sense of fun, their ability to find pleasure in the smallest way revealed an energy that captured my interest and imagination.
"I remember being criticised years ago because some thought I overlooked the Top End landscape in my work in favour of the people.
But in terms of inspiration, the people eclipsed the landscape.
"Spontaneity has always been important in my work. I don't like labouring an artwork – capturing a moment or a look in a gesture is a big reward personally."
Geoff's big break came in late 1988 when Holdsworth Galleries in Sydney staged a solo exhibition of his Maningrida work, mainly collages and assemblages but with some charcoal drawings on paper.
One work, Bush Biscuit Blues, was sold at the exhibition to a famous Sydney family of fashion retailers.
"This work was seminal as it led me to develop a style and a chosen subject matter that has stayed with me for the past 35 years. I was sad to see this work sold in more than one sense.
"Bush biscuits were a sweet but rather questionable commodity on communities in the early 1980s. A child would eat one of these large pappy biscuits, which stimulated a thirst, so they drank water and had a very full stomach in no time as the mashed biscuit swelled within.
"Nutritional value was sadly lacking and unless one had an understanding of the difference between malnutrition and hunger, a bad situation developed.
"I was to join with health workers to try to show distressed mothers whose children were 'not hungry' but were malnourished that bush biscuits were not a satisfactory staple food for growing children, who loved the sugar content while the parents loved the easy access of the biscuits.
"Bush biscuits helped draw my attention to the children on the communities."
In 2019, Bush Biscuit Blues came up for auction as part of Sydney Ure Smith's art collection. And Geoff bought it back.
"My energies have been rekindled by the presence of this controversial work in my studio after all this time.
"I say 'rekindled' because my paintings over the years show that the Community Kids theme has never really left me.
"And Bush Biscuit Blues has encouraged me to look to the strengths inherent in these kids once again."
Geoff, who is 70, is showing a new collection of work 'Tea and Biscuits' at Paul Johnstone Gallery, 2/2 Harriet Place, Darwin.
There will be an opening preview from 6-8pm on February 5.
For sales inquiries, contact Paul at the gallery or on
08 8941 2220, 0413 953 444 or at