Red Centre Technology Partners
AN INSPIRING ALICE SUCCESS STORY
Craig Reid had an unusual start in an industry that can seem bewildering to outsiders.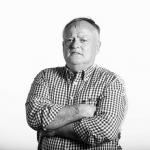 Words by

Nigel Adlam
Published

01 October 2019

He was servicing gaming machines, Telstra pay phones and photocopiers in Alice Springs when NEC Australia put out a tender for IT servicing.
"I thought it was something I could do," he says. "NEC asked me if I had an IT company and I had to say 'no'. They asked me if I had any IT staff and I had to say 'no'. But I told them that I knew how to manage a company and could do the job. I'm very grateful that they gave me a chance."
Craig's company, Red Centre Technology Partners, is an inspiring Northern Territory success story. It started with three staff in 2003. The firm now has more than 60 and operates in Darwin, Alice Springs, Katherine, Adelaide, Port Lincoln and Whyalla. RCTP also services IT systems in other parts of the country, including Melbourne.
NEC Australia manager Damien Charles says: "Craig and Red Centre Technology Partners have been fantastic partners for NEC Australia.
"At every step of the way Craig and his team have delivered on their promises and commitments. Their continued success is well deserved and earned through setting high standards and meeting them."
Craig, who moved to Alice Springs from Perth to join a photocopier servicing company and bought out the bosses within a few years, puts his incredible success down to good staff.
"I'm lucky to have fantastic managers," he says – without mentioning the skill and good judgment it takes for the boss to choose the right people for the right roles.
RCTP has attracted IT experts from around the world, including South Africa, Britain, Fiji and Estonia.
"We like to refer to ourselves as the happy United Nations of Alice Springs."
RCTP is an extraordinarily diverse business – it holds the Leading Edge franchise in Alice and is a single point of contact for a vast range of IT services, including:
System management
Backup and recovery
Microsoft 365 web and email services
Wi-fi access point and point-to-point links,
VOIP business telephone systems, delivered over the extremely customisable 3CX
Desktops, laptops, servers and networking equipment
Technicians are Cisco, Microsoft, 3CX certified and highly experienced with Ubiquity network and surveillance systems
Security camera servicing
RCTP also has a shop, which sells a vast range of IT products, plus gift cards and robotic educational toys. It also sells online.
The company's staff can fix most IT problems remotely but are happy to visit remote communities and cattle stations.
Craig is deeply committed to staff safety, so everyone travelling out bush carries a satellite phone and Navman, which has rollover sensors and panic alerts.
The diversity doesn't stop there – RCTP carries out restoration of NBN's copper network and even has a small excavator for minor civil works. And it still services gaming machines in Darwin and Alice.
Like all businesses, RCTP has had its ups and downs.
"There have been dark days," Craig says. "But I don't give up – sometimes that has been to my detriment but mostly it's worked out. I enjoy the challenge of doing business, of finding the solutions to problems."
RCTP gives back to the community in a big way – at least $65,000 a year in sponsorship and $2.5 million a year in wages.
His company is pleased to sponsor community events and organisations, including the Red Centre Nats, the Alice Springs Turf Club, the Redtails Football Club, whose players must be employed, studying or in the Right Tracks program, Rovers Football Club, rugby league and table tennis.
"I make my money in Alice Springs and strongly believe that I should give back to the community,"Craig says. "I'm proud to be an Alice business owner."
He loves a punt and was delighted when one of his horses, Ash Grey, won the Chief Minister's Cup this year. Craig enjoys living in Alice. "It's got problems and there's a lot of negative feedback about the town, but it's still a great place to live. There's a tremendous community spirit. I've been here for 16 years now – almost considered a local." TQ
Contact
Red Centre Technology Partners
55 Stuart Hwy, Stuart NT 0870
08 8952 7400
rctp.com.au