Helping People Achieve
ACHIEVING THE POSSIBLE
HPA has been revolutionised over the past five years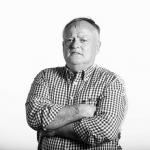 Words by

Nigel Adlam
Published

01 October 2019

The culture has been transformed from "sheltered workshop" to a proud and successful business inspiring the Territory on a daily basis – with private companies and government agencies increasingly giving the organisation the chance to tender for supply contracts and compete against other suppliers.
Chief executive Tony Burns even looks forward to the day when HPA can pay its own way without relying on Territory and Federal government support.
"We like to focus on possibilities, not disabilities," he says.
HPA stood for Handicapped Persons Association until Tony arrived in mid-2014. He instantly changed the name to Helping People Achieve to signify that a new age had begun.
Introducing a marketing budget and setting goals to increase awareness of HPA's business side, as well as becoming a loud and proud advocate for the disability sector, was crucial.
"Our main focus for the whole company is that through employment and support, people with disabilities can develop confidence, independence and life skills to lead a fulfilled everyday life in a world where there are no barriers" Tony says.
Since making history and winning the Telstra NT Business of the Year in 2016 – the first charity in Australia to wear the crown – things have really started to change for the company.
"Many people now see us as a serious company doing great things and not just a charity."
HPA has five major enterprises:
Kokoda Industries: producing a large range of high-quality items, including timber, steel and aluminium products, including superb outdoor furniture, gardening equipment, pallets and crates for mining sector and event trailers and made-to-order products for government, commercial and residential clients.
Ausdesigns: specialising in the design and manufacture of conference bags, gifts, homewares and souvenirs, it provides a variety of unique and genuine Aboriginal printed designs, as well as plain dyed cotton fabrics. Ausdesigns products and services include Indigenous-designed bags, tableware and gifts, digital screen printing, confidential document shredding, and embroidery. It also provides bulk supplies of Industrial rags for hand wiping and cleaning, clean t-shirt material, sheeting material and towelling.
PEG Day Program: it stands for Participate, Engage, Grow and is a centre-based disability program offering choice, diversity and active participation for people with an intellectual disability. Participants may also have a physical disability or a mental health disability. PEG offers community inclusion for clients, and recognises the differing interests and abilities of all people. The focus is on the client meeting their goals, supported by PEG staff and the client's support network.
DAS Support Services helps people who have a disability with low to moderate support needs. All support services provided by DAS focus on increasing independent living skills and community participation, and maximising engagement in social, community and employment opportunities. DAS operates within the Darwin and Palmerston areas.
Shoal Bay Trash and Treasure: since HPA's official reopening of the newly named Shoal Bay Trash and Treasure in July last year, with the support of Lord Mayor Kon Vatskalis and aldermen, HPA has ensured that the City of Darwin can continue to deliver an environmentally responsible facility. The aim is to reduce the amount of material entering the landfill at Shoal Bay with recycled materials being separated from general waste. It is also a convenient way for the community to reuse and recycle unwanted items. You can find a wide range of different second-hand goods, such as furniture, building materials (bricks, tiles, roofing iron, etc), books, DVDs and CDs, knick-knacks and bric-a-brac, pre-loved boats and trailers, exercise equipment, musical instruments, bicycles, lawn mowers and sporting equipment. The best part? All profits go towards providing work opportunities and improving services for Territorians living with disabilities.
With the full rollout of the NDIS in progress, HPA is committed to offering great opportunities, such as My Plan, My Pathway. The Finding & Keeping a Job Program was developed with the support of the NDIS Sector Development Fund, HPA essentially offered a trial work program. The program is designed to allow participants the opportunity to explore working within an Australian Disability Enterprise, and to create awareness of the opportunities for NDIS participants under the capacity building support of Finding & Keeping a Job.
"I'd ask people to at least consider whether HPA can meet their needs," Tony says. "It could be outdoor furniture, confidential shredding documents or buying gifts for clients, or even employment or accommodation needs. The quality of our products and service is amazing."
He attributes increased profile of HPA to awards recognition, sector connectivity, social media presence and marketing campaigns. In turn, this profile fuels sales and breaks down stigma.
"We have had conversations about open employment with private organisations and government agencies," says Tony. "One of HPA's goals is to advance the exploration of open employment for those with a disability in the NT community."
By helping HPA you'll be helping it to achieve its vision: to inspire and empower people with disabilities, supporting our employees and residents as they develop confidence, independence and learn life skills to lead a fulfilling everyday life in a world where there are no barriers.
When you do business with HPA you are supporting local Territorians with disabilities are not only buying a high-quality product but you are making a real difference at the same time.
Visit HPA's website and be inspired – go to www.HelpingPeopleAchieve.com.au to learn more about their products and services. TQ
---
CONTACT
Helping People Achieve
22 Albatross Street, Winnellie NT 0820
General inquiries/employment: 08 8947 0681