Defence NT
WINNING DEFENCE CONTRACTS
An innovative company best known for owning cattle stations is a perfect example of how an arm of the Northern Territory Government is working to help small and medium-sized businesses win defence contracts.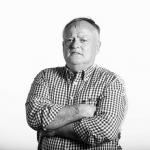 Words by

Nigel Adlam
Published

01 January 2020

Marine Blue, which is part of the Bilba Group, owner of three cattle stations on the Barkly Tablelands, makes polythene piping to carry water to drinking troughs – but the hard-wearing pipes can just as easily be used by the military.
DefenceNT, which is part of the Northern Territory Department of Trade, Business and Innovation, helped the firm to attend a major defence industry expo in Sydney in October last year.
Company owner Adrian Brown was delighted with the amount of interest the piping attracted.
"We've developed a piping system that can be used in ships," he says. "The navy often has trouble with piping, but our polythene product is cheap, light and flexible. That means plenty of spare piping can be carried onboard and repairs can be carried out quickly. We're hoping that something comes out of all the defence interest."
Marine Blue runs a factory in Darwin making piping, tanks, troughs and barbed wire.
Seventeen Territory companies, including Marine Blue, and five industry associations attended the PACIFIC 2019 International Maritime Exposition.
Guy Boekenstein, who is senior director of defence and national security at Defence NT, says the Territory booth at the expo attracted a lot of attention, especially from the Australian and Indonesian navies.
During PACIFIC 2019, the Department of Defence announced a new initiative that has great potential for the Territory – the concept of four Regional Maintenance Centres around Australia – Darwin, Perth, Sydney and Cairns.
The concept is still being developed by the Department of Defence and DefenceNT is working closely with local industry and Defence to help provide a solution that suits all parties' requirements.
At the moment, the majority of the maintenance and sustainment work done for the Navy in Darwin is for the Armidale Class patrol boats.
It is hoped that the new Regional Maintenance Centre concept will enable more work to be done for other Navy vessels in Darwin and promote more job growth in the sector.
There are fledgling plans to work with the Charles Darwin University Trade School to train more specialist workers.
The Northern Territory Government aims to build a Maritime Industry Park at East Arm and is working with the Federal Government and industry as plans for this develop.
The park will include the recently announced $400 million ship lift facility.
Mr Boekenstein, who used to work in the international policy division of the Defence Department, says a single defence contract can transform a company.
He says Defence NT works with industry to identify contract opportunities for local business.
"We want to help create capability for defence work in the NT."
An Indigenous-owned business is one of a growing number of Northern Territory small to medium-size enterprises benefiting from the massive defence build-up in northern Australia.
Savanna Solutions Pty Ltd, a Katherine certified Indigenous business, has secured an Indigenous Engagement contract with Lendlease, the Australian multinational construction company carrying out a major upgrade at RAAF Base Tindal in Katherine in preparation for the arrival of Joint Strike Fighters.
Managing Director Alice Beilby works with the community to engage local and Indigenous jobseekers to find employment with subcontractors on the New Air Combat Capability Project at Tindal.
She has designed and initiated ready-for-work programs such as Transition to Work, which has supported registered unemployed jobseekers under the Community Development Program to come into a structured program to build their ability to engage on a large-scale commercial project.
This work has included upskilling the workforce through pre-employment programs and providing wraparound support programs to help people transition into long-term employment.
Ms Beilby, who has lived in Katherine for 20 years, says Lendlease's monthly forum, which brings subcontractors and Aboriginal organisations together, is pivotal in attracting potential workers.
"A lot of the workers on the Tindal project are fly-in fly-out," she says. "We want as many local people to upskill either as individuals or as part of the supply chain so they can be engaged on this work which is right on Katherines doorstep.
"Lendlease has worked hard to break down some of these barriers that restrict people from securing this work."
The Expressions of Interest for Stage 6 at Tindal are now open for work that will commence next year.
The Federal Government plans to spend $20 billion over 20 years supporting Defence operations in northern Australia.
Projects include the multimillion-dollar upgrades at bases across the North, including Tindal, Robertson Barracks, and the Ranges Upgrade Project for Bradshaw, Mt Bundy Kangaroo Flats, and at Darwin's Larrakia Barracks being delivered through Lendlease, Sitzler and Laing O'Rourke. TQ