TED BAILEY
TQ PIONEER TED BAILEY
Ted Bailey freely admits that he wasn't the most studious of students at boarding school.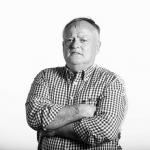 Words by

Nigel Adlam
Published

05 July 2021

When he left at the age of 15, a priest-teacher said to him: "Goodbye. I hope to never see you again."
Their paths never did cross in later life.
But if they had, the priest would undoubtedly have been impressed by what the less-than-diligent schoolboy had made of himself.
Ted became a hugely successful businessman and the godfather of Northern Territory horse racing.
He is now a youngish-looking 86 but when he speaks in his soft but determined voice everyone else still listens.
And despite his wickedly good sense of humour, he is known as a man who gets things done and doesn't suffer fools along the way – people still talk of him thumping the table during Darwin Turf Club board meetings.
He may have left school at the first opportunity, but he is proud of his two clever children and five clever grandchildren – they all went to university.
His only sadness is that only one of them – grandson Ned – is interested in the love of Ted's life: horse racing.
"He asks for tips now and again. And I'm happy to give them."
Ted was chairman of the Darwin Turf Club for a total of 14 years in two stints and has a grandstand named after him at the Fannie Bay complex.
Old-time Territorians still find it hard to believe the transformation of racing in Darwin – from a dusty country track to one of the most atmospheric and best-equipped venues in Australia.
The new-look Fannie Bay has everything from a swimming pool for the horses to a three-tier public stand with air-conditioned corporate boxes, function floor and commercial kitchen.
Silks lounge bar has only been open a year but already has 12,500 members.
Ted is proud of the state-of-the-art complex.
Many of the improvements were made after his retirement – but they are still part of his legacy because he set the tone for future developments, he gave the racing community ambition far beyond Darwin's small population.
And he mentored many of those who came after him.
"I still ask him for advice," says Turf Club chair Brett Dixon.
Ted remembers how the turf club had to recover from Cyclone Tracy in 1974.
"The cyclone was a disaster," he says. "Lots of horses were killed and everything at Fannie Bay was flattened except an old Sidney Williams hut. We had to make do with that hut for a long time. It took years to get a new grandstand."
The cyclone was the motivation to become involved with the club committee.
Amazingly, a race meeting was held at Fannie Bay on January 11, only 17 days after the cyclone; the event was a message to the world: we are not broken.
The racing community had to make do with Territory-bred horses for many years.
But Ted invested an enormous amount of time and energy in encouraging owners, breeders and punters from interstate and Asia to come to Darwin, at least for the cup carnival.
He forged strong bonds with some of the biggest racing identities in Malaysia, Singapore and Hong Kong. And he along with a group of like-minded people worked hard to convince the government to change legislation and allow the TAB to come to the Territory by doing what many at the time thought was impossible: getting Chief Minister Paul Everingham to admit defeat.
"Everingham and the on-course bookies were very much against the TAB – he said it would never happen while he was Chief Minister. But it did."
There were many other battles over the years, many other headaches, particularly about finances.
Ted was born on a farm in Queensland but knew from an early age that farming wasn't for him.
"I had broader thinking than to be a farmer."
He moved to Darwin in 1960 for work and went on to run Agserv and then took over the Bridge Toyota motor vehicle dealership Ted transferred his management skills to the turf club.
He had always enjoyed racing but got deeply involved when in his early twenties he became a clerk at Fannie Bay for several bookies, including Nick Paspaley.
"I earned 28 pounds a week at my usual job during the week and 24 pounds at the track on a Saturday. And that paid for my good life."
He played rugby league in Darwin and remembers the great social life of the old Army and Navy team.
"There was a party every weekend. And often during the week. It was fantastic."
Ted joined the turf club board in 1976 and became chairman 12 years later.
He is not sure how many racehorses he has owned – "maybe 20, maybe 30".
Former Racing Minister Barry Coulter butts in: "Nah, more like 50."
In 1989, Ted became only one of two owners to win the Triple Crown in 40 years when Brinney stormed home in the Guineas, Derby and Winfield Darwin Cup.
He pays tribute to all the other people who worked hard to make racing a success, particularly former turf club head Paul Cattermole.
"Paul was so dedicated. He made my life easier. He's a great bloke."
Ted is so respected in racing and business circles that doors have always opened for him.
As Barry Coulter says: "He would be allowed to walk into any boardroom in Australia."
Ted, who served as director on the Australian Racing Board for 12 years, was invited to Sydney for the opening of the new Queen Elizabeth stand at Royal Randwick and to meet the Queen and he and his wife Nola were invited to the royal enclosure at Ascot in 1994 He was awarded the Order of Australia Medal in 2008, the Australian Sports Medal in 2000 and inducted into the Racing Hall of Fame in 2006.
Ted Bailey's stewardship of Darwin Turf Club made Territory racing what it is today.
His legacy is a strong racing community with a beautiful home.
And the fact that nearly every Australian has now put a trip to the Darwin Cup Carnival on their bucket list.