TQ PIONEER – FRANKIE DALTON
They came from every corner of Australia to play cricket on a hard, dusty old horse paddock in the middle of nowhere. And felt enormously privileged just to be there.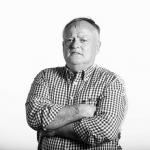 Words by

Nigel Adlam
Published

10 July 2023

The wicket in the Outback had the most unlikely of beginnings.
A Northern Territory police commissioner told Frankie Dalton that his famous Frank's Bar and Grill at Wave Hill, 444 kilometres southwest of Katherine, was selling grog illegally.
"We've got to sort that out," he said.
"You won't get a pub licence – they'll be too many objections to that – so you'll have to open a community sports club."
Wave Hill Cricket Club, surely one of the most eccentric sports clubs in the world, was born.
It became legendary.
Teams from every corner of Australia packed their swags and drove into the desert, often for thousands of kilometres. The posh ones flew in.
Frankie is a natural people person and greeted them all with irrepressible good humour and the standard Outback any-time-of-the-day welcome: "You're just in time for a beer."
He became mates with the regular visitors, including Test wicketkeeper Rod Marsh, singer, songwriter, author and former Territory Administrator Ted Egan, comedian Daryl Somers and Les "Bush Tucker Man" Hiddens.
Ted described Frankie's bar as a "grog shanty".
The club looked just like the MCG … well, sort of. It had a ramshackle shed called Bay 13, wooden seagulls dotted around the pitch and a tin dunny signposted Police Station.
Men and women played hard, on and off the pitch, and usually stayed for a couple of days before starting the trek home.
Frankie met his Alice Springs-born wife Lorraine when she was visiting her parents at nearby Lajamanu, then known as Hooker Creek.
"She had plans to move to Adelaide to study to be a vet – and then the poor girl met me. But she did go to university eventually to become a teacher."
The couple were married in the beer garden at Frank's Bar and Grill by Catholic priest Ted Cooper, who was brought in from Katherine to perform the ceremony.
The next day, Father Cooper baptised the couple's oldest son, Robbie.
"We had a fantastic time at Wave Hill," says Frankie. "We met some marvellous people and have got many incredible memories. I never felt isolated out there."
But all good things come to an end.
The couple eventually moved to Katherine because Robbie had reached high school age and there was only a primary in the tiny community.
Frankie did a few odd jobs around Katherine before becoming chief executive of the country club.
He stayed for 27 years and retired three years ago – only to return as groundsman at the club's golf course within a few months.
Frankie was born in Melbourne – one of five children – and went to the local Catholic schools.
He didn't like school and left at 15 to become an apprentice chef at Prince Henry's Hospital.
"I only stayed that long because the school said if I stayed until the end of the football season I would be given a year 10 pass."
The useful fullback first moved to the Territory when he was only 19 to work as a chef at the manganese mine on Groote Eylandt.
It was quite a shock – the boy from inner-city Melbourne had never seen an Indigenous countryman before and had never been to such a far-flung place in his life. And he had never earned so much money.
He never dreamed that he would end up settling in the Territory and marrying the grand-daughter of Boss Drover Matt Savage, who is immortalised in song by Ted Egan.
Frankie had intended to buy a block of land with the handsome savings from his work on Groote, but on returning to Melbourne he met a few mates in a pub discussing a trip to Europe and "after a few pots" decided to join them.
"That was the end of my property ownership dream. I spent the money travelling around Europe instead. Had a great time. No regrets."
Frankie worked as a chef and construction worker over the next few years before getting a well-paid building job in Hooker Creek and, later, Wave Hill.
He was only supposed to stay in Wave Hill for six months, but fell in love with the little outpost and stayed 14 years.
Frankie returns to Melbourne every year to watch his beloved Collingwood play Essendon on Anzac Day.
It's a time for old mates scattered throughout Australia to catch up. But he's always glad to be home again.
The couple own a two-hectare block on the outskirts of Katherine and their children, Robbie, Johnno and Blue, all still live in the Territory.
Lorraine works as a teacher at MacFarlane Primary School.
"I love Katherine," Frankie says. "It's a great town with great people. And I love my job looking after the golf course. It's ideal. I'm up at 5am, on the course at 6 and in the beer garden by 2.
"And no, I don't play golf. And I might be a qualified chef, but no, I don't cook anymore. My wife is a much better cook than me."