TOWARDS A BRIGHTER ENERGY FUTURE
It's been a rewarding and productive few months for Stuart Knowles, who stepped into the role of INPEX General Manager Northern Territory in January with exciting developments underway as the business enters its fifth year of operations in the NT.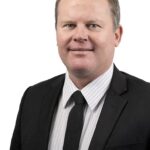 Words by

Stuart Knowles – INPEX General Manager Northern Territory
Published

11 July 2023
Earlier this year, the onshore operations team at Bladin Point celebrated the safe departure of the 500th LNG cargo.
As the business moves towards net zero emissions by 2050, the Territory remains a focal point for INPEX and could play a critical role in the company's decarbonisation strategy.
"Simply put, our focus is on decarbonising our Ichthys LNG operations, while establishing the foundations for the next generation of clean fuels including renewable energy," Stuart says.
Hydrogen study – a collaborative approach
INPEX is conducting an 18-month market study, together with Santos, Xodus and the CSIRO, to explore the potential of a hydrogen market in Darwin.
"Importantly, this INPEX-led joint study has the potential to support Darwin's cleaner energy future by identifying new market opportunities in hydrogen," Stuart says.
"Having played an active role in the Darwin business community for many years, we are proud to be supporting the Northern Territory's desire to develop a clean hydrogen value chain through this study."
Carbon Capture and Storage
Carbon Capture and Storage (CCS) is a critical way forward for INPEX and a CCS hub in Darwin is being considered with the support of the Australian and Northern Territory governments and CSIRO.
Stuart says the INPEX-led Bonaparte CCS Assessment Joint Venture is appraising a large-scale greenhouse gas storage site, in the Petrel Sub Basin, 175 kilometres west of Darwin, with extensive stakeholder consultations taking place to support this important work.
The International Energy Agency has made it clear that the world won't get to net zero by 2050 without CCS. This offshore acreage has the potential to contribute to that important goal.
"We believe the Petrel Sub Basin could support one of the largest CCS projects in the world, not only for Ichthys LNG but also for the next generation of clean fuels," Stuart says.
"The geology we expect in the basin is similar to that of the Sleipner Project in the Norwegian North Sea, which has been successfully and safely storing roughly a million tonnes of CO2 per annum for over 25 years."
Stuart's optimism is shared by many others who have studied the basin including Geoscience Australia, which has identified this as one of the most promising basins in Australia for large-scale storage of CO2.
INPEX is also proud to be contributing to the CSIRO-led Low Emission Hub business case working together with Santos, Woodside Energy, Eni, Xodus and the Northern Territory.
Working with the community
INPEX values building strong relationships within the communities it works alongside.
Stuart says INPEX couldn't have developed such a successful energy development in the Northern Territory without the support of stakeholders, across every level of government, local businesses and the community.
"Around 600 Territorians are supporting our operations on a daily basis and as operator of Ichthys LNG, together with the Ichthys Joint Venture, we are proud to be contributing to positive outcomes in the Northern Territory, through jobs, training and social and economic benefits," he says.
"A big part of what we have achieved is a result of the fantastic people who work with us and I'm really proud of the culture we are fostering as a business."
Three Territorians working with INPEX have been recognised for their exceptional work in the Group Training NT Awards and the Women in Resources awards.
Dianna Lee and Cordelia Mac were finalists in the GTNT Group and Women in Resources awards, and Lindsay Gerrard was named Outstanding Tradeswoman/Operator/ Technician category at the Women in Resources awards.
"I'm personally very proud of these three incredible Territorians who have given a lot back to their community through their work with INPEX in terms of volunteering and mentorship," Stuart says.