Ostojic
TOMO FINISHES THE JOB
Tomo Ostojic enjoyed double delight when his iconic company won the Northern Territory Government contract to seal the final section of the road running through Litchfield National Park.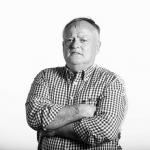 Words by

Nigel Adlam
Published

01 October 2019

It was obviously pleasing to gain more work – recognition that the family-owned service and contracting company performs to the highest standards – but there was also a lot of sentiment involved. Ostojic Group sealed their first section of Litchfield Park Road 30 years ago and will have sealed the majority of the road when the last 12 kilometres is finished next year.
It will soon be possible to drive right across the beautiful national park on bitumen, something that was unimaginable when the park was first declared. And a new bridge will mean that the road is no longer closed during the wet season.
"I'm happy to have this contract," says Tomo. "I've been involved in Litchfield Park Road from it's beginnings – this job is special to me."
He remembers working on that first stretch of road all those years ago. And despite being at an age that he doesn't care to discuss, Tomo still enjoys jumping into an excavator and helping his workers. He proved that he is still up to the job by skilfully unloading a stack of huge pipes from the back of a truck at Litchfield. And after that, he hopped into a loader to carry on working.
Tomo founded his business in 1972 as a one-man transport company with a single truck – he now owns 100 trucks and has branches in Alice Springs, Mt Isa and Cloncurry, and employs 250 staff.
The $26 million Litchfield contact involves realigning eight kilometres of road north of the Finniss River and building a new four kilometre road to the south. The 161 metre steel and concrete bridge will be built across the river to replace the dangerous, narrow 4 metre wide bridge, which is used by thousands of vehicles every year, including road trains. The work is creating about 65 jobs.
Ostojic strives to maintain a 100% local workforce, with 30% of those being Indigenous employees. It also subcontracts work to four Indigenous-owned companies.
The bridge will be built by Territory business All Cast, which has taken on three Indigenous workers for the job.
Candace Nichaloff, 27, whose family are Traditional Owners of a part of Litchfield, is undergoing a traineeship with Ostojic on the road sealing project. She is helping set up the 46-bed workers' camp, which will have a full-time cook and cleaners.
"I love working here," she says. "The crew is fantastic."
Ostojic has helped Candace gain a first aid certificate and she will soon study for traffic control. But her ambition is to operate a 50-tonne excavator.
"I hope that my traineeship will lead to a full-time job," she says. "I want to learn everything there is to learn."
The Litchfield work started in early July and should be finished by September next year.
Experienced project manager Jeff Rose wants the bridge completed by the wet season so that equipment can easily be trucked across the Finniss.
"We've got a hardworking, experienced crew so I'm confident we can do it. They are well paid and enjoy the work."
The Territory branch of Aurecon carried out the engineering work on the project.
NT Tourism Minister Lauren Moss says: "Litchfield is a key driver of tourism and local jobs in the Batchelor region and across the Top End and these upgrades will open up more opportunities for visitors and locals to explore this spectacular part of the Territory during the wet season."
This being the Territory, the Litchfield contract has its own special challenges – for instance, Ostojic laid two boons across the Finniss River, only for them to be damaged by saltwater crocodiles within 24 hours. TQ
CONTACT
Ostojic Group
08 8999 9999
ostojic.com.au
---
TRUCK CENTRAL OPEN FOR BUSINESS
Ostojic Group, in partnership with the Land Development Corporation, has completed one of the Northern Territory's flagship projects – the $52 million Truck Central on the outskirts of Darwin.
Company civil manager Ian Hinchliffe says the trucking hub will be a great asset for the Top End.
And truckies agree – it makes life safer and more comfortable for them.
There are 22 lots, ranging in size from 2800-10,000 square metres, which are ideal for truck sales, equipment hire, tyre outlets and general industry use. The available lots have attracted good interest from prospective purchasers.
Truck Central is perfectly sited between Darwin and Palmerston, and only a short distance from the AustralAsia railhead, Hudson Creek barge access, the East Arm Logistics Precinct, live export cattle yards, and the Inpex and ConocoPhillips LNG plants.
A 3.2-hectare Road Train Assembly Area will allow truckies to park overnight and uncouple so that single-train vehicles can make deliveries closer to town.
Drivers are expected to continue sleeping in their rigs, although there have been talks about building budget accommodation.
Adjoining the Assembly Area is the BP Darwin truck stop providing fuel and restaurant, with an excellent "truckers' lounge" and quality driver and rest facilities.
A new Heavy Vehicle Inspection Facility operated by Motor Vehicle Registry is under construction. The facility is scheduled to open later this year and will be the only one in Australia capable of inspecting fully configured road trains.
About 20,000 vehicles pass along nearby Tiger Brennan Drive each day and 3000 along Wishart Road.
For sales inquiries, contact Ostojic on 08 8999 9999.